Ogun celebrates Day at AFAC 2017
By OSA AMADI
Ogun State, on Wednesday September 6, took the first shot among the states scheduled to take a day each to celebrate their states with arts and cultural performances at the on-going African Arts and Crafts Expo 2017 taking place at the Abuja Arts & Craft Village.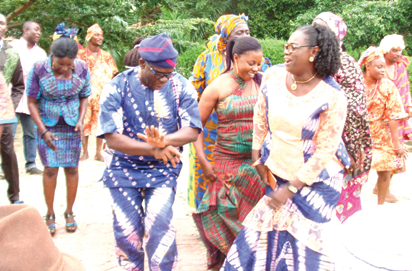 Dignitaries from Ogun State who attended the occasion include the commissioner for Culture and Tourism, Rt. Hon Muyiwa Oladipo, who led the delegates and represented the governor, Senator Ibikunle Amosun ; Pastor Seye Senfuye, Special Adviser to the Minister of Finance; Segun Bamiwole, Special Adviser to Ogun State governor on Culture & Tourism; Alhaja Salimot Ottun, Permanent Secretary, Culture & Tourism, Ogun State; Mrs. Melutia Ogunremi, Director of Culture, Ogun State, and many other illustrious indigenes of Ogun State, their friends and neigbours from other states.
Giving a keynote address, the commissioner, Rt. Hon Muyiwa Oladipo recounted many achievements of Ogun State indigenes, saying that Ogun State is first in many things. "In fact, today in AFAC, Ogun State is taking the lead; not only in terms of being led by an Ogun State indigene (Otunba Segun Runsewe), but also on the days set aside for states to perform, Ogun started first. You are going to see our cultural troupe perform, displaying arts, culture, crafts, dances, and everything. You know that the adire is unique to Ogun State; that is why you see us wearing the adire. We will also have a fashion display of adire."
Also speaking, the Director-General of National Council for Arts and Culture, Otunba Segun Runsewe, further substantiated the claim that Ogun State is first in many things by reminding the gathering that "the first layer in Nigeria is from Ogun State. And also the first person that read music in Nigeria is from Ogun….The joy of today in AFAC is that we are celebrating in unity. I want to beg all of us that irrespective of our religion, tribe and other differences, we need to hold tenaciously our togetherness as a people.
"In 1959," the D-G continued, "the then queen of England sent Alexandra to Tafawa Belewa Square in Lagos to discuss with Chief Obafemi Awolowo, Sadauna of Sokoto, Tafawa Belewa, Zik, Okpara and others. And he (Alexandra) asked them, "Are you ready for this marriage of unity?" They all raised their flags and said: "we are ready to unite Nigeria and remain together". So I beg all those calling for disunity to reconnect to our great grandfathers (who decided) that we need to be together. And today we are together. I thank Ogun State for this further step taken to keep us together. Always remember: Our Culture is Our Pride."
In her own speech, Mrs. Melutia Ogunremi said, "We have not only brought our dance and music, but also our cuisine, our food for all to taste and see that Ogun State is the center of culture."
For everyone who came, it was a day of stunning, scintillating music and dance. The drums, especially the talking drums, for which Ogun State is known, kept both performers and spectators gyrating to the complex and intoxicating rhythms of African music.
The post Ogun celebrates Day at AFAC 2017 appeared first on Vanguard News.
Tags 2014
You may also like...