Nwoye commends Buhari, APC for allowing level playing ground
APC candidate Dr. Tony Nwoye has praised what he has described as the level playing ground guaranteed by President Muhammadu Buhari and the party leadership during the governorship primaries.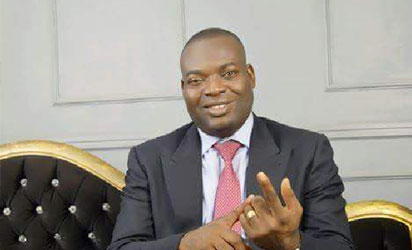 Dr. Nwoye who emerged as the APC candidate in the primaries last weekend also commended his colleagues for good sportsmanship even as he affirmed that the victory belonged to the people of the state.
Dr. Nwoye, a medical doctor and member of the House of Representatives in the statement said:
"I want to specially thank our dear President Muhammadu Buhari for insisting on a level playing ground for this election, it has shown clearly that the APC is a party that believe in rule of law.
"To my National Chairman, the indefatigable Chief John Oyegun, you are truly the Chairman of Chairmen. Without your stand and that of the members of the NWC, Anambra would not be celebrating APC today. You have made our Party the most attractive.
"Every election is a hard-fought battle, and this one was no exception. For those of us who choose to be contenders and go into electoral contests, we go about it as a win-lose proposition.
"While it is true that only one person can be elected to fly the flag of our great party, in reality, and certainly in a democracy such as ours, every election is an opportunity for the people to express their will, to have their say in who will lead them in the shaping of Anambra's future.
"In this way, each victory belongs to the people. And the true winner is always the party, All Progressives Congress (APC) and at large ndi Anambra.
Congratulating his fellow participants for putting up a good fight, Dr. Nwoye said:
"To my boss, the Distinguished Senator, Dr Andy Uba, I must say a big congratulations to you and also salute your mastery of the political terrain. I cannot claim I defeated you, I just cannot do that for you are still the boss.
"To the leader of our Party Distinguished Senator Chris Ngige, you are a leader and your leadership has made our party the beautiful bride in the State. You will lead us to victory on November 18th.
"Chief George Muoghalu, Engr Barth Nwibe, Chief Paul Chukwuma, Johnbosco Onunkwo, Chief Chike Obidigbo, Barr. Mmadu Nonso  , Chief Patrick Nwike, Donatus Okonkwo, my sister Adaobi Uchegbu, I wish to let you know that your resolve cannot be matched and I also say congratulations and ask that you all shall join me as the destination of this journey is not what I can go alone."
The post Nwoye commends Buhari, APC for allowing level playing ground appeared first on Vanguard News.
Tags 2014
You may also like...