Night-crawling in 'Isale Eko' could be loads of fun!
By Bunmi Sofola
MODELE, a forty-some-thing legal secretary recently landed, Deji, a new boy friend a few years after her divorce. He'd already taken her for a couple of fancy dinners in posh restaurant but he now wanted her to see the real Lagos night-life. According to her:
"Once I'd decided to have an open relationship with Deji and tried to make the most of it; I discovered he could be quite an interesting companion. My 'me' time with him is not only intellectually challenging, we also have silly spur-of-the moment activities that make one laugh at life instead of taking it too seriously.
Like a few days back when we were both at a loose end for what to do. It was a Friday and he suddenly suggested he showed me the night life of the real Lagos—the Isale Eko area! My eyes widened.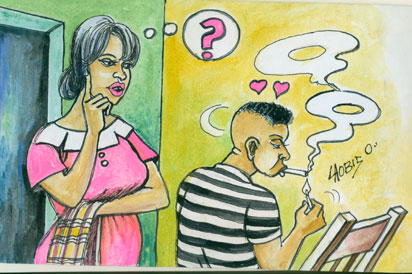 I'd heard so much about what went on in the dead of the night in that area to make me apprehensive. Even in the day time, the few times I'd had to venture near the area he was suggesting,I did with my heart in my throat.
"Alice, my flamboyant friend who always goes around as if she were a jewellery stand, out-rightly refused to come with us even though we wanted to buy a joint gift for a friend's birthday. "I don't want some riff-rafts scratching at my throat because they want to snatch my gold necklace," she said snootily. When Deji insisted I should give it a go since he would be around to give me all the protection I'd need, I agreed to go.
It might even be an experience I'd cherish, he said, with that mischievous glint in his eyes. According to him, the place normally didn't come alive until around midnight. He usually did the round by visiting a couple of friends and taking them with him for a real down-to-earth treat. We called at an older friend of his in the early evening.
Deji had already called him on the mobile and he was expecting us. Instead of taking one of the old cars in his fleet, he decided to take the best. "Is this wise?" I asked as I got into the car. "What if it was snatched or vandalized?'' "Don't be silly," he chided.
"These are my friends, remember? I grew up with them and if I hadn't had the privilege of a good education, I would have been one of them. They are happy people, whatever you have against them. Believe me, if anything were to happen to me, they would protect me with their lives!
"The friend we first called on was older than Deji. 'Only by a couple of years,' he whispered. Well, you could have fooled me—with his leathery skin and all-white hair! He was stripped to the waist and busy on a kerosine stove. "As soon as I got your call that you were on your way," he said proudly, "I rushed to the Lagoon to get some fresh fish. I got crabs too."
As they chatted away like the old friends they were, I watched fascinated as he stirred the stew he was making, then expertly cleaned the fish and crabs, lastly squeezing fresh lime on the lot. "Gets rid of the nasty smell fish has at times, he explained, "and brings out the flavour of the fish and crabs."
"I usually just boil crabs and eat them whenever I feel like having some," I told him, "Next time, put in a cube of maggi or whatever seasoning you favour and add a tablespoon of ground pepper—very tasty." As he went on cooking, it was obvious he did this all of the time. Girls, young and old, flitted in and out of his neatly done one-bed-room, cracked jokes about him never allowing them to help with the cooking, but helping with other chores.
The fish stew was delicious, and between mouth-fulls of well-made eba and okra, Deji explained that Semiu was briefly married, had a couple of kids but never again gave living with a woman on a permanent basis a thought. He seemed to like his independence!
"After the meal, two other friends arrived bringing girls with weird-looking wigs. Deji greeted everybody very familiarly, cracked a lot of rude jokes with them and bought them as much drinks as they wanted. He looked relaxed and happy too.
Our small group then moved to a 'club' house that looked more like an abandoned property. Inside though, it was nicely made up with a  air-conditioner. We were hardly settled when the proprietress came to inform us that the band was ready to play. I didn't even notice any.
But sure enough, almost by magic, white chairs were arranged in front of the club-house find a group of five of six guys were tuning archaic-looking instruments. "That's an agidigbo band," Deji told me. Well, I'd seen quite a few of them but never sat close to one.
Almost by magic, the band sprang to life as soon as they saw Deji and his friends. They got on to the dance floor and the type of dance they did was not the typical one you do to juju music. The night had obviously just started.
As if by magic, other night spots sprang to life selling all sorts of delicacies from goat meat and fish pepper soup, to jumbo snails, peppered stockfish to finger foods like banana fritters (mosa), fried anchovies (yoyo in Yoruba). If you wanted a hot meal of the "Mama Mukaila" type, there were amala, tuwo, and pounded yam stalls!
The buzz of the place was electrifying. And a few of the people that crawled in later in the night had cars more impressive-looking than Deji's. Scruffs or gents, they called each other by their first names and the younger ones showed reverence by improvising as waiters, after hurriedly throwing away the funny looking cigarettes they were smoking.
"By six O'clock in the morning, the place was still bubbling.  Deji then took me back to his place, explaining on the way that visiting a place like that once in a while not only humbled him, it showed him that happiness is what you make of it  rich or poor.   It was apt that the experience should be topped up with a dollop of TLC!"
The post Night-crawling in 'Isale Eko' could be loads of fun! appeared first on Vanguard News.
Tags 2014
You may also like...