Nigerian experts worry over lack of access to treatment of heart diseases
…Inuagurates ACTSON to tackle problems
By Chioma Obinna
Surgeons in the field of cardiovascular and thoracic medicine  have raised the alarm over poor access to treatment and services in Nigeria, lamenting that only 2 per cent have access to treatment abroad while 98 percent stay at home and die.
As a result, more Nigerians are dying from Cardiovascular Diseases (CVDs) –  a group of disorders of the heart and blood vessels. The four main types of CVDs are cancer, chronic respiratory diseases and diabetes.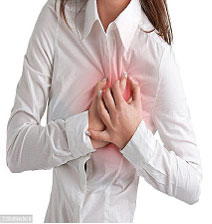 Among others are coronary heart disease – disease of the blood vessels supplying the heart muscle which often causes heart attacks, and cerebrovascular disease – disease of the blood vessels supplying the brain, often leading to strokes.
Speaking at the inaugural meeting of  the newly launched Nigerian branch of Association of Cardiovascular and Thoracic Surgeons, ACTSON,  a Consultant Cardiothoracic Surgeon at the University of Enugu Teaching Hospital, Prof. Martin Aghaji, said a study showed that Nigeria  is in dire need of improved cardiothoracic practice and survival rates.
"I can tell you from our study that only  2 percent of the patients go abroad and 98 percent sit here and die.  So there is need for us to galvanize and bring together the surgeons and cardiologists so that we can tackle this problem."
In his lecture entitled: Advancing Cardiothoracic Surgical Practice in Nigeria," Aghaji  identified medical errors as a problem and noted, aid preventing medical errors using checklist before surgery reduces medical errors by 35 percent deaths.
"There is need for practitioners to prevent medical errors. If somebody has a heart attack there is a protocol for handling that. We want to unify how patients are handled because it saves life. If you don't do that you find out that patients are handled haphazardly and there is a lot of loss of lives."
The President of ACTSON, Dr. Bode Falase,  a Cardiothoracic Surgeon at the Lagos State University Teaching Hospital, LASUTH,  said  ACTSON   seeks to ensure a sharp reduction in errors arising from wrong diagnosis, tests, treatments; transfusion and improve survival rates.   He admitted an increase in cardiac-related diseases.
Throwing light on the cardiac conditions, the Secretary-General of ACTSON, Dr. Augustine Olugbemi, explained that cardiovascular diseases are into two categories and some are congenital while some are acquired from lifestyles.
Olugbemi who is also a Consultant Cardiothoracic and Vascular Surgeon, LUTH, urged Nigerians to see a doctor regularly.  "For prevention, quit smoking and reduce alcohol as much as you can. Do regular exercises and maintain healthy weight. If you have consistent cough, don't say it is pneumonia, so see a doctor. It can be controlled with lifestyle modification."
Also in his lecture tagged: "Healthcare Financing in Cardiac Surgery in Nigeria," former Executive Secretary of the National Health Insurance Scheme, NHIS, and Associate Professor of Cardiothoracic Surgery, Dr. Femi Thomas,  blamed the poor survival rates of cardiac patients on inability to pay for healthcare, urged the government to ensure universal coverage in the NHIS by making it compulsory.
"NHIS needs to be re-energised, restructured, reviewed, and made more functional while the scheme itself should be purely a regulatory body."
The post Nigerian experts worry over lack of access to treatment of heart diseases appeared first on Vanguard News.
Tags 2014
You may also like...