Nigeria needs philosopher-kings to end treasury looting — Onaiyekan
…Advocates conditional pardon of Boko Haram insurgents
By Luminous Jannamike
ABUJA—THE Catholic Archbishop of Abuja, John Cardinal Onaiyekan, yesterday said Nigeria needed philosophers as political leaders to end the endemic culture of looting of the nation's treasury.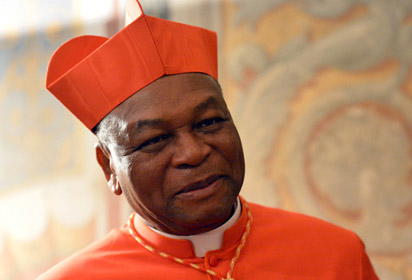 Onaiyekan spoke while addressing Catholic faithful at a mass to jointly celebrate the Divine Mercy solemnity and the 2018 Mothers' Day in Abuja.
He said while Nigeria had enough resources to cater for the welfare of all its citizens, the dearth of political leaders who  possessed philosophical mindsets as well as the willingness to live modestly was responsible for the menace of corruption within government circles and its attendant negative effects on the society.
Using Mahatma Ghandi, an Indian nationalist and political leader, to buttress his point, the Archbishop said: "I wish Nigeria had a pool of politicians who are philosopher kings. That would have made the twin problem of greed and corruption a thing of the past in our nation. Mahatma Ghandi of India was not even a Christian but he believed in the philosophy of modesty. He once said 'there is enough in the world for every man's need but not for every man's greed.'
"The pattern of consumption in our modern society cannot be sustained in the long run. If only we would all live modestly, the greed that breeds corruption will be eliminated, and no one will ever be in need. If our politicians would possess the mentality of frugality and modesty, it will cascade down to the citizens and every one will be willing to share whatever he possesses with his neighbour."
Onaiyekan also advocated mutual forgiveness among Nigerians and conditional pardon for Boko Haram insurgents to heal the wounds of the past.
"A lot of negative occurrences are going on in our country, and we are scared because God may descend on us in anger. If he doesn't, it is because of his mercy and forgiveness. So we need to pay attention to mutual forgiveness. We must find a way to wash each other's wounds. We have continually hurt each other in ways that polarize the nation along religious and ethnic lines. If we admit our need for God's mercy, then, we must forgive each other. It is my duty as a preacher to call for the forgiveness of Boko Haram insurgents; on the condition that they would change for the better," he said.
The Catholic prelate further called for the unconditional respect for the dignity of womanhood; saying, "Anything or anyone that tends to treat women as if they are of lesser quality than men is not of God.''
The post Nigeria needs philosopher-kings to end treasury looting — Onaiyekan appeared first on Vanguard News.
Tags 2014
You may also like...