Niger/D youths tackle Minister over completion of East-West Road
By Gabriel EWEPU
NIGER Delta youths under the auspices of Niger Delta Youth Congress, NDYC, have tackled the Minister of Niger Delta Affairs, Usani Uguru Usani, over the completion of the East-West Road.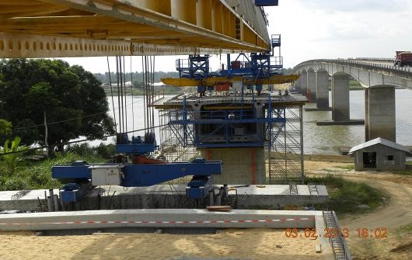 The National Coordinator, NDYC, Comrade Israel Uwejeyan, said the project remains the life wire of the region and nation.
Uwejeyan who lamented the poor state of the road said this has compounded the underdevelopment of the region in the past 11 years.
He said: "How can the Minister of Niger Delta Affairs, Pastor Usani Uguru Usani, make such a ridiculous statement over the completion of the East-West Road, which has been the economic life wire of the Niger Delta region and the national economy?
"The Minister should understand that this road is the lifeline of the nation's economy, which the oil companies operate on daily basis to keep the economy going and other developments across the country.
"If he says there is no enough resources to continue or complete it he should not have brought it to the hearing of Niger Delta people because it would create tension and possible hostilities in the region.
"Rather, he would have devised ways to collaborate with the state government, development partners and oil and gas companies in the region to see how fund would be raised, and also access the Excess Crude Account, ECA, to fund the project with a realisable target, instead of coming up to tell the world that the project has no deadline for completion."
He also cautioned the government for making such statement, which according to him would discourage investors in the sector, which some may withdraw from the region and leave the country for other places with better infrastructure.
"It is unfortunate that the project has lingered for over a decade, but with this recent statement by the Minister operation of many investors in the oil and gas industry and other sectors will be disrupted and that would result to revenue losses for the federal government, and some might relocate to other countries to continue their business since there is no deadline on the completion of the project as he claimed.
"We are pleading with the government to be committed to this project and to make it a priority so the country will continue to run its economy with the proceeds from oil and gas, but if they continue with the way and manner the project is being handled I don't think it will augur well", he added.
It will be recalled that the dualisation of the East-West road project commenced 11years after it was awarded, and the Minister recently at the 2017 ministerial press conference stated that there was no deadline for its completion, while he showcased the achievements of the ministry.
The post Niger/D youths tackle Minister over completion of East-West Road appeared first on Vanguard News.
Tags 2014
You may also like...