Ngige's body movement raises stir
By Emmanuel Aziken, Political Editor
The APC in Anambra  State was, yesterday, agitated over a planned meeting summoned to hold in the Alor country home of the state party leader, Senator Chris Ngige, tomorrow.
The agitation follows disturbing signs over the body movement of Ngige, the minister of labour. Members of the state executive committee and close associates of Ngige have been invited to the meeting.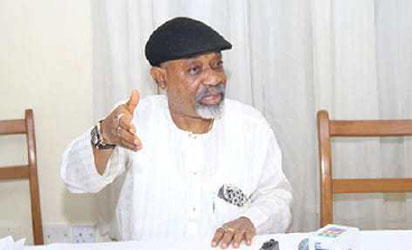 Vanguard gathered that the meeting will offer an opportunity for Ngige to give direction to party executive on who to support among the about a dozen aspirants presently in the race.
Though Dr. Tony Nwoye and Senator Andy Uba have emerged as clear aspirants in the contest, there were insinuations, weekend, that the Ngige camp may be working to torpedo the aspirations of the two men who it is feared may not be willing to respect the leadership of Ngige as the party leader.
A source privy to the development disclosed that the meeting of the Ngige associates and the state exco might come up with the plan of backing Chukwuma Paul for the ticket of the party. The APC in Anambra State had recently been challenged by reports of plots to alter the delegates list to the favour of one of the leading aspirants.
Last weekend it also emerged that a former governor now very prominent in the present government in Abuja working in cahoots with a notable official at the Presidential Villa were working to project one of the aspirants from Anambra South, a move that has raised concern among party stakeholders.
The post Ngige's body movement raises stir appeared first on Vanguard News.
Tags 2014
You may also like...