New okada trouble: 27-yr-old man kills father, stabs mother in Anambra
By Vincent Ujumadu
Awka—THE 27-year-old
Okada rider, who allegedly killed his father for refusing to buy a new motorcycle for him has said that his spirit asked him to do so.
The Okada rider, Mr. Ifeanyi Oguejiofor, from Ezimuko Nsukwu village, Abatete in Idemili North Local Government Area of Anambra State, who reportedly stabbed his father, Mr. Osita Oguejiofor, to death with a kitchen knife, also stabbed his mother several times with the same knife.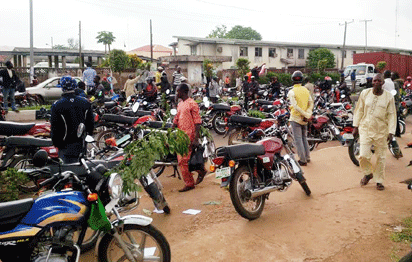 She, however, survived.
An eyewitness said Ifeanyi also stabbed himself several times, apparently in a bid to commit suicide.
The eyewitness said: "Trouble started that fateful day at about 8a.m., when the young man, a commercial motorcycle operator, approached his father and demanded for the money he had requested from him for the procurement of a new motorcycle, since the one he was using for the business had become old and was giving him a lot of trouble.
"His father told him that he had no money to buy a new motorcycle, but that he will buy a new engine for the one he was using.
"The father's response did not go down well with him and so he made straight for the kitchen, grabbed a knife and pounced on his father, stabbing him repeatedly on the neck and shoulder till he slumped and gave up the ghost.
"After dealing with his father, he descended on the mother, who was crying for help when her husband was under attack by their son. He stabbed her on the ribs and shoulder and when she fell on the ground, he thought she was also dead.
"He then began to stab himself, but passers-by and neighbours intervened by alerting local vigilance group and the Police, who promptly arrested him. Ifeanyi later said that he did what he did because his spirit asked him to do it."
The Divisional Police Officer of Ogidi, Mr. Mark Ijarafu, confirmed the incident, saying the corpse of Ifeanyi's father had been deposited at Iyi-Enu Mission Hospital mortuary, Ogidi, while the mother was taken to an undisclosed hospital for treatment.
The DPO said the suspect was still being detained, while investigation into the incident was ongoing.
The post New okada trouble: 27-yr-old man kills father, stabs mother in Anambra appeared first on Vanguard News.
Tags 2014
You may also like...