NCAA sensitizes stakeholders, as SAATM commences
Nigeria Civil Aviation Authority, NCAA, Tuesday, hosted a sensitisation workshop on the commencement of the Single African Air Transport Market, SAATM, which will finally be launched sometime this week during the AU Summit in Addis Ababa, Ethiopia.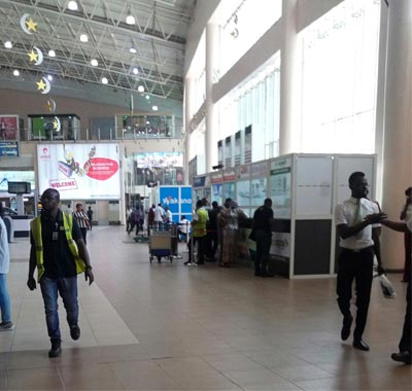 The aviation stakeholders' workshop with the theme: SAATM Implementation: Its Impact on the Nigerian Aviation Industry and National Economy, held at NCAA headquarters in Lagos, had the Secretary- General of the African Civil Aviation Commission, AFCAC, Ms. Iyabo Sosina and representative of the International Air Transport Association, IATA, who are the critical stakeholders and who have the tremendous responsibilities to actualise SAATM.
Nigeria was among the countries that declared their commitment to establish the SAATM by 2017 upon the adoption of the declaration by the Assembly of Heads of State and Government of the African Union in January, 2015.
Speaking during the opening ceremony, the Director- General, NCAA, Captain Muktar Usman said the sensitisation workshop "could not have been more apt given the fact that our continent is now focusing on the development of the African Union Agenda 2063 and the Solemn Commitment of the African Union member-states with respect to the establishment of a Single Air Transport Market in Africa through the full implementation of the Yamoussoukro Decision (YD)."
He said it is the responsibility of Nigeria, being among the 23 signatories to "the Solemn Commitment, to adhere to the stipulated concrete measures instructing the signatories to open their respective air transport markets immediately to each other and without conditions in compliance with the Declaration of the Assembly of Heads of State and Government (Assembly /AU/Decl.1(XXIV) on the establishment of SAATM."
Usman also said it is important that the sensitisation workshop is organised to intensify awareness campaign among the critical stakeholders which include airlines, airports, ANSP, aviation sector downstream, tourism industry etc, on the impact as well as benefits of SAATM on the industry and national economy.
He enjoined all stakeholders to come together to improve the aviation support base in Nigeria and embrace as well as harness the opportunities that a Single African Air Transport Market has to offer.
According to him: " I know and it has been estimated that liberalisation would create more jobs in the aviation and tourism sectors of the continent, increase states' annual Gross Domestic Product (GDP) and revolutionise interconnectivity within the continent, among others."
The post NCAA sensitizes stakeholders, as SAATM commences appeared first on Vanguard News.
Tags 2014
You may also like...