N6bn cars seizure: Judge dismiss ex-gov aspirant ally's N500 m suit against EFCC
…As agency moves for final forfeiture of cash to FG
By Soni Daniel
Abuja – A Federal Capital Territory High Court, Maitama, on Friday dismissed a fundamental human right claim for N500 million brought against the Economic and Financial Crimes Commission, EFCC, by a purported importer of cars, Olalekan Olakehinde, following the seizure of 17 exotic vehicles believed to be proceeds of illicit activities.
The said vehicles, according to EFCC, had been traced to Liman Kantigi, a former Commissioner for Local Government in Niger State, who is also a former governorship aspirant.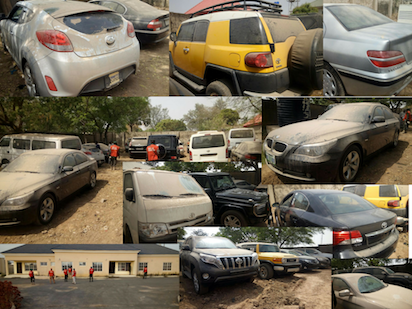 The vehicles were suspected to be illegally acquired after the sum of N6 billion, which he could not account for, was traced to him.
EFCC said that following his refusal to honour its invitation to account for the huge wealth, the anti-graft agency had already secured an interim forfeiture order of the account where the money is domiciled. The order remains valid as it has not been vacated.
Like Kantigi, Olakehinde has also wilfully refused to honour invitations by the EFCC, but instead instituted the fundamental human right enforcement procedure action against the EFCC.
Investigations had revealed that, in spite of his claim to being the Chairman of AY Emirate Motors Limited, he was in fact, a front for Kantigi.
Olakehinde had through his counsel, Aliyu Umar, SAN, approached the court, with a 23-paragraph affidavit, dated June 13, 2017 seeking for seven prayers. Specifically, he urged the court to "award damages against the EFCC in the sum of N500 million", and asked for "an order or perpetual injunction" against the EFCC.
But opposing the applicant, Aliyu Bokani, counsel for the EFCC, filed a 227-paragraph counter-affidavit against him, praying the court to dismiss the claim, arguing that Olakehinde benefited from illegal activities and suspicious transactions, running into millions of naira, which prompted an investigation of his business dealings.
"The said AY Emirate Motors Limited was registered in 2015, while the illicit transfer of over N80 million from a company linked to Kantigi was carried out in 2014 into Olakehinde's personal account and not that of AY Emirate Motors," Bokani said.
He further explained that: "Investigations revealed that the said money was transferred before the incorporation of AY Emirate Motors Limited."
Justice Halilu Yusuf, a vacation judge, who presided over the matter, in his judgement, noted that "Olakehinde instituted the suit so that he will not honour the invitation."
"I therefore dismiss the suit in its entirety," the trial judge held.
Emboldened by the dismissal of the fundamental rights case, the EFCC said on Friday it would soon launch a final forfeiture of the seized proceeds of crime.
The post N6bn cars seizure: Judge dismiss ex-gov aspirant ally's N500 m suit against EFCC appeared first on Vanguard News.
Tags 2014
You may also like...