My wife and I have caused trouble in many celebrities' marriages — Obi Emelonye
By Benjamin Njoku
February 14 is  another Valentine's Day and many couples are looking forward to celebrating this special day for lovers. But to ace film maker, Obi Emelonye, and his wife, Amaka, Val Day means little or nothing as they celebrate theirs on February 12.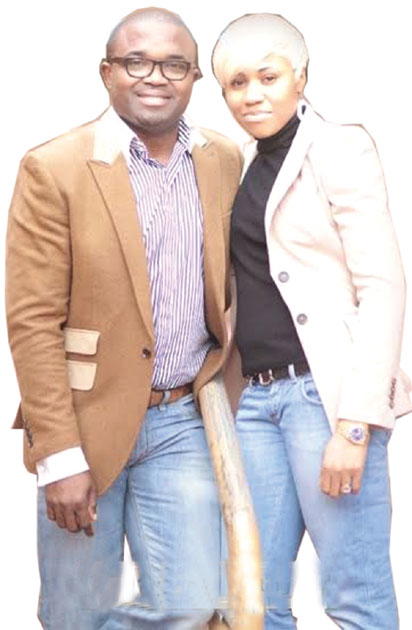 That day happens to be their wedding anniversary. Obi met his wife on the set of 'Fire Dancer" a film produced by Tchidi Chikere, in 2001. He was the director of photography of the movie which starred Genevieve Nnaji, Chidi Mokeme, Zack Orji, among others.
In this encounter, the producer of the award-winning movies, 'Last Flight to Abuja', 'Mirror Boy' and Igbo movie 'Onye Ozi', who shuttles between London, where he's currently living with his family, and Nigeria, recounts how they have been able to stay attracted to each other, after 15 years in marriage.
Attracted to each other
This is a woman who has constantly re-invented herself. It demands constant work on both parties to try and stay appealing to your partner. You are not going to say because I am married, I'm not going to look after myself again. No, you have to constantly re-invent yourself; constantly remain appealing and sexy to your partner.
I do that and my wife does it. I guess that's why we have the kind of marriage we have after 15 years of being together. It's easy to get carried away in our industry where women will do everything to lure you to their side. You need the grace of God, self-discipline, steadfastness and the fear of God to survive in the movie industry and not to riddle your life with scams, gossips and scandals.
What we have to keep private, private
You know in the movie industry, we are living in a fishbowl, where whatever happens to you and your marriage will be out there. If you are celebrating your birthday everybody knows about it; if you are celebrating your wife's birthday, the world will know about it, if you are having problem in your marriage, it will also be in the public domain. It becomes slightly more difficult to deal with small problems when it's already in the public domain.
My wife and I have mastered the art of keeping what we have to keep private, private, and sharing with the world what we need to share with the world. So what we need to keep private, we deal with it privately. No marriage is made in the heaven. But it takes constant work and so long as both parties are willing to do that constant work, the marriage will be easier. And that's what has happened to my marriage.
In my absence
It was tough in the beginning even though I didn't travel as much then. But these days. I travel a bit more than before. With modern technology, we have been able to keep in touch each time I am not around. I am able to speak with my children on daily basis through video calls. So, modern technology has made it easier for us to stay in touch.
She's the first person I would speak with when I wake up in the morning and the last person I would say good night to. But because I'm not around for one month or more, when I'm back, I don't want to engage in  anything that does not involve my family. I want to stay around them and fill the gap I created while I was away. Again, because I am self-employed, I can manage my time in such a way that my whole life revolves around my family. I do everything with them so that when I am not around they would know that I am not around. When I am around they will feel the impact of the man in the house.
Before I met my wife
I wasn't born and brought up in London and if you must survive there, you are required to do certain things in order to stay above the water. But then, when I came back, I wiped my slate clean and started afresh with her. I said to myself, 'if this woman is everything I wanted in a woman, what am I looking for again?' And truly, since I married her, she has kept herself clean, appealing, sexy and still looks beautiful .
You wouldn't know she has given birth to three children. Any man would be happy that he's still married to the same woman he married many years ago. To stay with the same woman you married many years ago with little changes is the dream of every man. My wife still wears the same clothes that she was wearing when I met her. She's more mature now, more enlightened and she has progressed with me, under me, in front of me and behind me.
Courtship
I'd believe in courtship, but I didn't court my wife. When I saw her I knew she was my wife. I needed to confirm what my instinct told me and once I confirmed it, we were married as far as I was concerned. Courtship is great but people get lost in courtship. There are two concepts of marriage; the western one which can be described as the love marriage and the relationship concept which is practiced in Nigeria and sometimes in India.
Celebrating my wife
The first three editions of AMVCA, where I was nominated multiple times and I won multiple times, I have had to attend the awards' ceremonies with her at great expense. It's not that I cannot attend the awards' ceremonies alone, but she has been part of this dream from the very first day. She has made the sacrifices and allowed me to walk away when I was supposed to be with her; to go out in the day time and come back late at night and she has supported me throughout. And when the time of celebration comes, I shouldn't go out there and be celebrated alone.
She has to come along with me because she's part has been part of the dream and when I climb the stage to receive my awards, I want to walk along with her because without her I won't achieve what I have achieved. I think I am the envy of a lot of women because I have brought a lot of crisis in the marriages of many celebrities. Their wives are now making reference to me, saying to their husbands, 'Don't you see the way Obi Emelonye parades his wife at high profile celebrity events.' That's their problem, I live my life the way I want to live it and I am happy and my wife is happy too.
Regrets
Not at all. Nobody is perfect. We all have our flaws but that does not mean that we don't quarrel. One of my wife's weaknesses is that she loves me so much. Sometimes, she needs to just go with the flow and I criticize her all the time. But it doesn't change anything about her. She's a wonderful mother of my three kids and a good friend to me.
Marrying early
I was in my early thirties when I got married. I needed to settle down. I felt I was in a good place at that time and was looking for a wife. But I didn't want to marry an already made woman. I wanted to marry somebody who would grow with me and ready to support my dreams. Over the past 15 years, we have moulded into one family and enjoyed the marriage. As a young man, who just returned from London, and with a little cash to throw around, I felt I was incomplete without a woman around me. More so, I was distracted with all the good things around.
My disappointment
When I proposed to her, she didn't understand what it meant to propose to someone. I was disappointed that I didn't get that kind of excitement from her. It was a lukewarm acceptance of 'I will marry you'. I said to her, 'Is that it?' She replied, 'Yes that's it'. She's not really an excitable person.
In a way, I was beginning to understand that at a time. Really, it was tough to accept the fact that you just proposed to a young lady you knew barely few months back, and she was not excited about it. However, when she accepted my proposal, I was very happy. I went to see her people and, later, I got my family to do the needful, while I travelled back to London. A few months later, she joined me in London. That was it and she has never left me since then.
The post My wife and I have caused trouble in many celebrities' marriages — Obi Emelonye appeared first on Vanguard News.
Tags 2014
You may also like...