Mikel sees Eagles in Russia 2018
As Nigeria head to the second leg encounter of the FIFA 2018 World Cup qualifiers against Cameroon Monday in Yaounde, Super Eagles captain John Obi Mikel indicated that the team will not rest on their impressive 4-0 win in Uyo.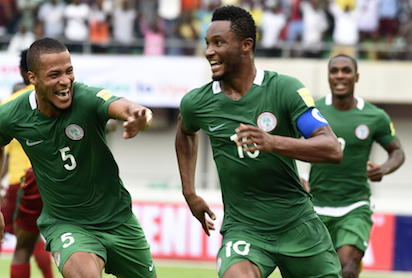 The Eagles need to avoid a defeat to keep themselves in a good stead for qualification for the Russia 2018 World Cup. Mikel whose leadership was evident in the game in Uyo on Friday said the team is ready and are in good spirit to beat any team in Africa. One more win from their three remaining matches will seal the ticket for the Super Eagles.
"If we continue to play like we did, we can beat anybody in Africa. I want to make sure we go ton the World Cup and also qualify for the Nations Cup. ''We knew coming into the game we had a very good chance of winning, that's exactly what we did, so now we are in a very good position of qualifying for the World Cup.
"In the last game (against South Africa) we didn't have some players, sometimes it is difficult to change five starting players in the team.
Mikel stated that there is a balance of youth and experience in the team and he was happy providing leadership.
"We have a very young team, obviously I have been here for a long time and now I am the captain of the team
"I feel I have responsibility every time I step on the pitch to play. This team needs experience, this team needs guidance. The players are very good players, quick players. "Sometimes they need someone they listen to, someone who can direct them to make sure we have balance and know exactly what we are doing and that's what we did Friday."
The post Mikel sees Eagles in Russia 2018 appeared first on Vanguard News.
Tags 2014
You may also like...