Mark Wahlberg named world's top paid actor, grossed $68m in one year
Abuja – American veteran actor Mark Wahlberg has been named the world's highest paid actor for 2017,earning an estimated 68 million dollars before taxes over the past 12 months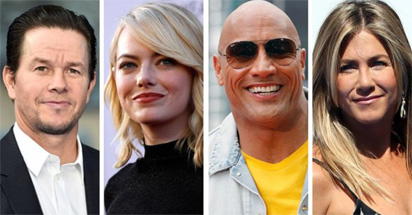 The 46-year-old actor topped the list of 10 highest-paid actors released by Forbes Magazine on Tuesday.
According to Forbes, the rating is based on the actor's total earning between June 2016 and June 2017.
"The actor earned his spot at the top of the list majorly due to earnings from "Transformers:The Last Knight" and comedy sequel "Daddy's Home 2," due out in November.
"Fixed compensation means he benefits even when movies don't do well," said Forbes.
Surprisingly, Dwayne Johnson "The Rock", who topped the list last year, is in second place with 65 million dollars, after starring in the reboot of lifeguard action-comedy "Baywatch" and starring in HBO comedy "Ballers."
"The former wrestler earned 50 million dollars more than his 2016 total due to his appearance in the upcoming "Jumanji" set for release in December.
As indicated in the ranking, Vin Diesel, who co-stars with Johnson in "Fast and Furious", came in third on the list with 54.5 million dollars, just ahead of comedy actor Adam Sandler, who made 50.5 million dollars.
Chinese action star Jackie Chan, who is still hugely popular in China came in fifth with 49.5 million dollars over the last 12 months.
Robert Downey Jr., Tom Cruise and Bollywood veterans Shah Rukh Khan, Salman Khan and Akshay Kumar respectively.
The world's10 highest paid actors earned a combined 488.5 million dollars between June 1, 2016, and June 1, before management fees and taxes.(NAN)
JOSH/GY
The post Mark Wahlberg named world's top paid actor, grossed $68m in one year appeared first on Vanguard News.
Tags 2014
You may also like...