Makarfi to Buhari: PDP'll keep you on your toes
By Anthony Ogbonna
President Muhammadu Buhari, Friday, met with the executives of the All Progressives Congress, APC, party and the Peoples Democratic Party, PDP, at the Banquet Hall of the Presidential Villa, Abuja.Among those who attended the meeting were PDP members whose delegation was led by its national caretaker committee chairman, Ahmed Makarfi.
The APC's delegation was led by its national chairman, John Odigie-Oyegun.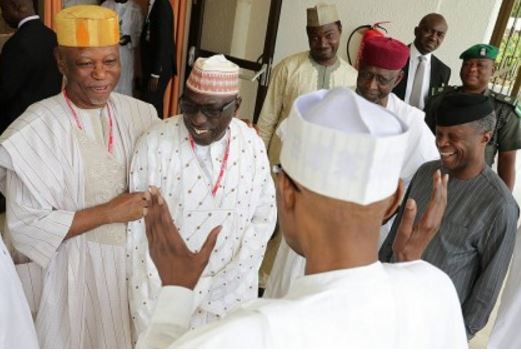 Makarfi, at the meeting told Buhari that PDP "will give you a good run for your money and constantly keeping you on your toes as we all strive to make this country better."
Makarfi gave the statement when he assured the President that PDP will play its role of opposition decently and responsively.
President Buhari, in the meeting, had told the APC and PDP executives that the meeting was not a political gathering but signified unity of Nigeria. He said opposition does not mean hostility or antagonism because democracy which Nigeria practices recognises and, in fact needs opposition that is vibrant but responsible.
According to Buhari, "I thank you sincerely, collectively and individually for finding time from your busy schedules to come all the way to Abuja and welcome me back home.
"This visit signifies the unity of Nigeria. It is not a party occasion. It is not a political gathering. It is a symbol of our National unity. It is also an expression of the maturity of our democracy.
"Multi-party democracy is a very tried and tested form of government. Opposition does not mean hostility, enmity or antagonism. Democracy needs opposition, one which is vibrant but responsible.
"I am very pleased to see you assembled here all shades of opinion in Nigeria. Please convey to our countrymen and women in your respective states my deep gratitude to all those who prayed for my recovery. I am imploring all Nigerians to continue praying for peace and prosperity in Nigeria.
"I thank you so much God bless the Federal Republic of Nigeria."
However, in his remarks, the PDP national caretaker committee chairman, Ahmed Makarfi assured the president of PDP's cooperation in ensuring good governance to the people.
He said, "this we shall do by giving you a good run for your money and constantly keeping you on your toes as we all strive to make this country better."
"Mr President, you will agree with me that the PDP has more than a fair knowledge and experience of the weight of that responsibility."
"Mr President, I want to reiterate our offer and assurances of PDP's cooperation with the government on any programme sincerely designed to take Nigeria to higher levels. We identify with, and will continue to support the fight against terrorism as well as other crimes that have sneaked into our consciousness like kidnapping and banditry, as well as farmers/herdsmen clashes and other crimes camouflaged as such and all other anti-social vices that slow down our nation's wheels of progress."
Makarfi said PDP is happy and joins "our compatriots in welcoming you back home from your medical vacation. We thank Him for your recovery even as we pray that He continues to guide and guard you as well as give you greater strength to shoulder the onerous responsibilities of your office, for the betterment of our country.
"It is on record Mr President that while you were away, being the major position party in the country did not stop us from praying for your quick recovery and return to Nigeria.
He said,  "This is because we honestly believe that the President of our country, whatever party flag he or she flies, is our president; and his or her health, is substantially linked with the nation's health in so many ways.
"So a prayer for the health Mr. President, we believe is a prayer for the good health of our country.
"That was why at several fora, we did, and enjoined others, irrespective of party affiliation, to pray for your quick recovery. It is a thing of joy, that Allah has answered our prayers."
"There is no way we can have a respectable voice in the comity of civilized nations until we rebuild our institutions and imbue them with the necessary independence and confidence that will improve both their visage and standing with the citizenry The government should lead the charge in this regard by, especially, exhibiting greater respect to judicial pronouncements as well as respecting the fundamental rights of all Nigerians.
"The PDP as a great believer in the unity of this country will also partner with the government in any way(s) that will strengthen our historic bond and rebuild bridges of our beautiful relationships that seem to be cracking at the moment. 10. Mr President, we once again express our sincere happiness at your recovery and return home. We wish you more good health, strength and God's guidance", Makarfi said.
The post Makarfi to Buhari: PDP'll keep you on your toes appeared first on Vanguard News.
Tags 2014
You may also like...