London 2017 Fall-out: I was fit to run and win for Nigeria—Egwim
•Says Coach Okon lied
By Ben Efe
Emerald Egwim, a member of the Nigerian 4x400m relay quartet, has revealed that she was fit and ready to run, contrary to claims by coach Gabriel Okon that she was down with illness; hence she was replaced by a jet-lagged Abike Egbeniyi in the final of the event.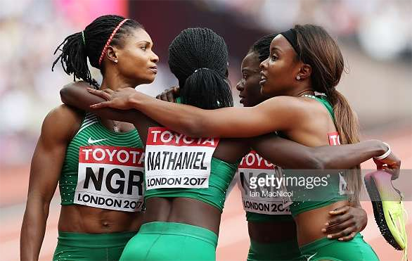 Nigeria, hard pressed to win a medal, was presented an opportunity in the 4x400m final when the Jamaican team pulled up. However, Nigeria wobbled to a fifth finish with 3.26.72 seconds, in the race they where expected to win at least a bronze having ran 3.25.40 seconds a season's best in the semi-final. Egwim, Patience Okon, Glory Onome Nathaniel and Yinka Ajayi achieved the feat.
However, in the final Egwim was dropped by coach Okon. He claimed as he came under a barrage of criticism over his decision, that Egwim and also Margaret Bamgbose were ill and needed medical attention. But the athlete said in a conversation yesterday that assertion was far from the truth.
"It is NOT true! I was prepared and excited to run and even texted (sic) coach Gabe the morning of the race to confirm I was running in the final.
"He said of course and I went along my day as if I was running the final. I warmed up and then he told me Abike was running in my place.
"I would have loved to run and was smiling throughout my warm up. It is very unfortunate and a shame that we missed out on an opportunity to bring glory to Nigeria. It is a bitter disappointment," Egwim said.
Nigeria finished at the Championships without a medal and Nigerian athletics enthusiasts were angry with the way the women 4x400m team was handled. Coach Okon argued that such criticism weren't based on facts.
The post London 2017 Fall-out: I was fit to run and win for Nigeria—Egwim appeared first on Vanguard News.
Tags 2014
You may also like...