LASU-ISEHRI ROAD: Family laments attempt to revoke ownership of 52.15 acres of land
By Ifeanyi Okolie
Members of  Beku-Onimaba Ruling Family of Igando, Lagos State, have lamented that the Lagos State Government, is making attempts to revoke its right of ownership of  52.15 acres of land situated along the Lasu-Isheri Expressway, which was recently given back to them, by the Federal High Court, Ikoyi.
Vanguard gathered that the government, had through a letter, which was allegedly signed by the state governor, Akinwumi Ambode, threatened to revoke the family's right of ownership of the said land.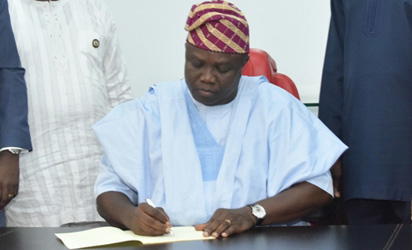 The letter which emanated from the Lands Bureau Office of the Governor, stated partly thus: "I Akinwumi Ambode, the Governor of Lagos State hereby gives this notice to the holder revoking the existing right of occupancy in respect of the parcel of land with effect from the date of service of the notice."
But, members of the Beku-Onimaba Ruling family told Vanguard in an interview that they were surprised to receive the revocation letter.
They told Vanguard that they took the Lagos and Federal Government to court in  year 2012, when they discovered that the said parcel of land which they originally ceded to the Federal Government for the purpose of the National Youth Service Corps, NYSC,  in 1983, was being used for commercial purposes and some of them allotted to politicians and  traditional rulers within Igando, Lagos State.
The head of the family, Ganiyu Ige, told Vanguard that his family secured a judgment over the said parcel of land in March 13, 2017, from the Federal High Court, Ikoyi.
The post LASU-ISEHRI ROAD: Family laments attempt to revoke ownership of 52.15 acres of land appeared first on Vanguard News.
Tags 2014
You may also like...