June 12 declaration makes SDP real third force —Activist
By Gabriel Olawale
LAGOS—A youth advocate and lawyer, Mr. Adekunle Osibogun, has described the Federal Government's declaration of June 12 as the country's new democracy day and the posthumous award bestowed on the acclaimed winner of June 12th,  1993 annulled Presidential election, late Chief Moshood Abiola, as a reawakening call for agitators of the June 12 movement to take up the mantle of the third force movement.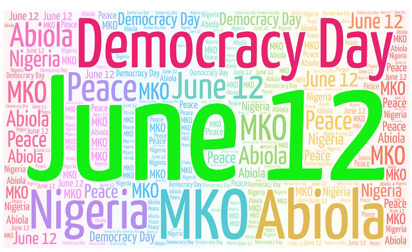 He said the timely declaration by President Muhammadu Buhari, no matter the political motivation, has put to rest the debate on the ideal party to hoist the flag of third force movement ahead of the 2019 general elections.
In a statement Osibogun said: "The declaration of June 12 has rejuvenated the spirit of democracy within the country and the SDP will be a vibrant platform for democrats who are opposed to the continued rule by pseudo-democratic political parties of All Progressives Congress, APC, and Peoples' Democratic Party, PDP, after the 2019 general elections.
"This is because the SDP is the only political party of true democrats that will be participating in the 2019 general elections which have won a presidential election in Nigeria."
The post June 12 declaration makes SDP real third force —Activist appeared first on Vanguard News.
Tags 2014
You may also like...