Itsekiri group pledges support to new mgt of amnesty programme
By Gab Ejuwa
Itsekiri National Development Initiative, INDI, a group of Itsekiri elite, has promised to support the new management of the Presidential Amnesty Programme under the leadership of Professor Charles Dokubo to recalibrate and reboot the programme to achieve its major mandate.
The group, in a statement  by Dennis Mene, Chairman and Henry Omajugho, Director of Contact and Mobilisation, said they were in full support of the eight-man special review committee to ascertain the present status of the programme and redirect the programme to meet present realities in the Niger Delta.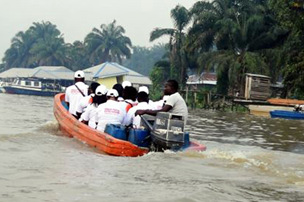 The group urged the new management to speed-up plans to meet the demands of beneficiaries in schools and training centres especially Itsekiri beneficiaries that were recently deployed before the removal of Brigadier General Paul Boroh (retd).
The statement said, "The office should immediately consider the redeployment of the beneficiaries deployed to schools without their choice of course and those deployed to schools without master's programme  and also meet the accommodation issues of post graduate beneficiaries deployed to Igbinedion University."
"We demand that the new management  should hit the ground running for the deployment of about 350 remaining Itsekiri beneficiaries captured in the third phase since 2012, especially those on the  skills training category who have not been deployed at all. The office should look into the  complains in terms of composition of staff/ appointment and others in the office to ensure equity as Itsekiri do not have representatives which is affecting the deployment of our beneficiaries since 2012."
The group advised beneficiaries that are not yet deployed for education and vocational training categories to remain calm as they are confident in the new administration to ensure that the itsekiri nation benefits maximally in the programme.
The post Itsekiri group pledges support to new mgt of amnesty programme appeared first on Vanguard News.
Tags 2014
You may also like...