Is Sullivan Chime growing senile or what ?
Why is he lying against Enugu State?
It is easy to see that this thing Sullivan Chime told Vanguard is nothing but tissue of lies, deliberately and mischievously peddled by the former governor. In the interview, Sullivan claimed that the Federal Government released N40 billion for Enugu State, which he said he requested for but was turned down by Jonathan's administration.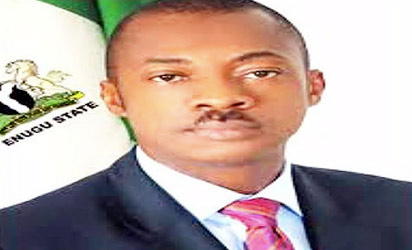 I am an ardent follower of political development in Enugu State since 1999. As a great admirer of the sterling leadership of the present administration in the state, anchored on peace, good governance, transparency, accountability, prudence and the fear of God, I wish to state unequivocally that Chime's allegation is false, mischievous and baseless.
Why do I ask whether Chime has become senile? Look at what he said in that interview: "We made all sorts of requests for funds for Enugu State under the past administration running to N40 billion but it gave us excuse that it would cause inflation.
"It is part of history that the present administration has released the money for Enugu State."
To me, it is quite unfortunate and annoying that someone who had occupied such an exalted office could make this childish statement in an attempt to undermine the present administration in the state, mislead and misinform the public.
Anyone who searches online will see how much money comes from the federal to each state. For Enugu State, it is nowhere near N40billion and we all know this.
We all know how much the present administration in the state has received from Federal Government as London/ Paris Club Refund, which obviously is not up to 50 percent of N40 million. I am personally, aware that the Federal Government has not refunded Enugu State government the over N25 billion it spent on rehabilitation of federal roads in the state.
It is also on record that Gov. Ugwuanyi pleaded with the Minister of Finance, Mrs. Kemi Adeosun, during her recent official visit to Enugu, for the Federal Government to refund Enugu State the money it spent on federal road. The governor also appealed to the Minister to prevail on federal agencies owing the state government over N16 billion to pay up.
Where did Chime get the information that the present federal government released N40 billion for Enugu State? This is a clear act of mischief, coming from a former governor who left over N81 billion outrageous debts for the state. Just because of politics, he is lying to the public, shamelessly.
Chime should just thank his God because of the kind of humble and peace-loving governor we have in Enugu today, otherwise a taste of the inhuman treatment he meted to his predecessor, Senator Chimaroke Nnamani, who singlehandedly made him governor in 2007, would have placed him where he ought to be by now.
Please let's disregard Chime's antics and shenanigans! He is drowning in frustration.
By Steve C. Nweke writes from London
The post Is Sullivan Chime growing senile or what ? appeared first on Vanguard News.
Tags 2014
You may also like...