Int'l Humanitarian Day: Oxfam laments horrifying condition of women, children in IDPs camps
By Gabriel Ewepu
ABUJA- AS Nigeria joined the world to mark International Humanitarian Day on August 19, 2017, an international humanitarian giant, Oxfam, has lamented horrifying condition of women and children at Internally Displaced Persons, IDPs, camps in Borno, Adamawa and Yobe States as a result of Boko Haram attacks.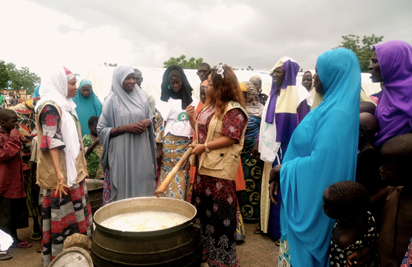 Making this known was the Oxfam Humanitarian Ambassador, Bimbo Akintola, who visited the IDPs camp in Pulka, a town hosting IDPs in Borno State, which Akintola described their situation as hostile with inadequate access to food and water. According to her over 50, 000 IDPs are currently in Pulka camp hibernating and struggling to survive.
She said, "A few days ago, I was in Borno State, visiting camps for internally displaced people in Pulka. As I was walking around the site, witnessing the living conditions of people, these questions kept on coming to my mind: "How is it possible for people to survive in such hostile conditions, with little or inadequate access to water and food?" "How is it possible that in Nigeria, being one of the richest countries in the continent, people are being deprived of basic facilities such as schools to send their children to or even have food to eat?"
"Pulka is a community within a community. Following the conflict of the past eight years, thousands of people have fled their homes with basic infrastructures such as schools, hospitals and markets destroyed. Currently, Pulka has a population of 50,000, including people coming back from Cameroon and other displaced persons from neighbouring villages. I met Zainab, her daughter, Aisha and her grand-children all cramped in a tent. Both Zainab and Aisha have lost their husbands. Zainab told me her husband was killed when their village was attacked while Aisha is not sure if hers is still alive or dead."
She also lauded the relentless and dogged determination of humanitarian workers in the North-East region despite the raging terror by the insurgents they have continued to render humanitarian services to succour the IDPs and add value to their lives.
"On August 19, the International Humanitarian Day aims to recognize these humanitarian workers. Especially in North East Nigeria, where the environment is fraught with insecurity, constant attacks, and where the context is constantly changing, humanitarians deserve to be celebrated for their hard work.
 Relentless commitment
The humanitarian workers I interacted with, mostly Nigerians show a rare and relentless commitment to the people ravaged by conflict, like Hauwa Kyari, Robert Ekemini and Mercy Samuel have been on ground providing humanitarian assistance to the displaced persons.
"On this special day, I would also like to take the opportunity to express my appreciation for the humanitarian workers in North East Nigeria, who are providing life-saving assistance for millions in need. I hope, little by little, their work will cease to become a necessity, as peace comes to Nigeria, and the community's affected by violence are able to go back home and resume their lives", she stated.
Oxfam has been working in Adamawa and Borno States, providing people with emergency food support, clean water and better sanitation, including constructing showers and repairing toilets, and making sure people have areas to wash their hands. It has set up community protection groups for women to give them information about access to support facilities if they have suffered from sexual violence and exploitation.
The post Int'l Humanitarian Day: Oxfam laments horrifying condition of women, children in IDPs camps appeared first on Vanguard News.
Tags 2014
You may also like...