Infidelity: My romance with death (2)
By Yetunde Arebi
Aunty Ireti's relationship with her husband was already tainted with a damning secret as she was building a house without his knowledge. Then she met Branco, the man who would take her to the brink of death. In the first part of this story which began last week, Ireti was swept off her feet by the dashing younger man into an adulterous affair.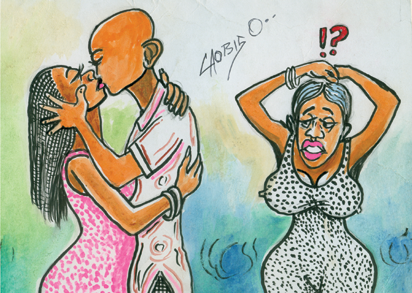 He soon borrowed some money from her and events after, forced her into doubting if she had not misplaced her trust. She attributes her narrow escape to divine intervention and God's abiding grace. Now 71, she is convinced her story is worth sharing for the purpose of counseling younger married women. I do hope so too. Please enjoy it and let's meet here again next Saturday.
Do have a wonderful weekend!! "It was after parting with the money that I finally began to see through Branco. Our rendezvous started reducing, same with the sex and money. His excuse was that his business needed urgent and undivided attention.
Initially, I thought he was seeing someone else and was being diplomatic with me, but when he failed to return my money as agreed, I began having second thoughts. Everything added up and turned to anger. So, I told him I wanted to refund the loan I took from my friend whom I'd also introduced to him. He became angry, shouted at me and told me that he would get me the money as soon as possible, but that I should not rush him.
There was something odd about the way he said it, and the way he looked that made me afraid. What if he didn't return the money?    What would I do about it? Who could I report to? At that moment, I realized I was in deep trouble.
From then on, Branco and I saw very little of each other and I had to confide in my friend whom I'd earlier borrowed some money from.
My friend was dumbstruck on hearing the details and expressed fear for my life. She told me not to pressurize him too much for the money so as not to incur his anger unnecessarily. She said she had heard stories of how some men dupe their girlfriends, she advised I forget about the money by pretending that I'd misplaced it or had it stolen from me. She said constantly asking for the money might lead him to seek diabolic means of making me forget about it or even lead to my death.
Though I was a bit scared, I didn't want to believe it as I was sure that Branco could never think of doing such a thing. But I accepted her advice and when I saw him again, I didn't mention the money. When he asked if I'd forgotten my money or no longer wanted it about three weeks later, I quickly told him he could give me any time it was convenient for him as I no longer had urgent need for it. Little did I know that God was in the process of perfecting his miracle of saving me from untimely death.
I attend a white garment church. During service one evening, one of the prophets saw a vision about me. He said that I was involved in some money problems with someone very close to me and that I should be very careful, else things could turn deadly. I was not to quarrel with anyone about money. Instantly, I knew it was Branco. So I had no choice but to wait.
Then the unexpected happened. Early one morning several months after, my friend (the one from the club who was also dating Branco's friend) paid me an unusual visit. She told me something terrible had happened. Branco had died! She then went into a long narration of how Branco met his Waterloo. Branco was not only an expert dupe but also an armed robber.
Barely 30 years, he was much younger than the 36 years I'd thought and far from the 40 years he claimed. Branco was reputed for his love for older women whom he duped mostly. His mode of operation was to date them, spend a little money giving them a good time and finally brainwash them into parting with their money. He had obviously been doing it successfully with many unsuspecting innocent women.
As it turned out, I wasn't his only woman friend. He was going out with another woman, a widow who had two children in America. The third boy was in the process of traveling also, while her last child, a girl was in a higher institution in Abeokuta.
The woman owned a fabrics shop at Oshodi market. It appeared the children were doing well and wanted their mother to build a house they could come to when on holidays with their families. So, they began sending money to their mother who in turn contracted the project out to Branco.
The woman had trusted Branco so much that she never tried to verify anything he brought to her. So, he'd brought fake documents in her name, fake survey and plan and had generally fed her with lies about developments on a non existing site. The money, according to my friend had run into over a million Naira. Branco had told the woman not to bother with visits to the site as he wanted to surprise her with the finished work, a state of the art piece, as he called it.
But the woman's children abroad were curious and wanted to catch a glimpse of it. So they requested that their mother should send them photographs of the house at least. Branco promptly brought some pictures, still insisting that a visit was not necessary.
However, the woman's third son in Nigeria had been observing his mother's relationship with Branco and was not satisfied with the roles he was playing in their lives. The boy began working on his mother, insisting they must visit the site. The mother in turn, began to mount pressure on Branco and this was where the trouble began. After much delay and excuses, a date was fixed, but the poor woman never made it there.
Branco picked her up on the appointed date but instead of going to the house, he drove straight to an unknown destination where he'd laid an ambush with other members of his gang to do away with the woman. They had left her for dead after inflicting several machete cuts. God works in mysterious ways, His wonders to perform.
And so He did in the life of this poor woman. She miraculously regained consciousness and managed to crawl out into a village where she got help from some good Samaritans. At the hospital; she narrated her ordeal to the management, informed them that she knew the culprits, and supplied all necessary information about Branco. Her story was related to the Police who promptly took over the case.
Arresting Branco had not come easy. A search party was sent to Branco's house at Alagbado. He was not in and his wife was arrested in his stead. He was asked to report at the police station on his return. News of the Police visit to his house soon spread like wild fire in the neighbourhood. On getting the order from the Police, Branco must have realized that the game was up since it was his word against the woman's.
He was said to have gone into his room, locked himself up and swallowed some poisonous substance. Branco chose to commit suicide rather than face the law. By the time he eventually crawled out, his condition had deteriorated. He was rushed to the hospital where he'd died.    His family had to go and give the update to the police, and his wife was finally released.
The shocking revelation of Branco's shady activities and his sudden death sent shock waves all across the Alagbado neighborhood. Tongues began wagging and more revelations about him came to the fore. One of the stories had been related by a mei'guard (mallam) in whose house, Branco had led his gang of armed robbers to. According to the mei'guard, he'd managed to escape into a nearby bush from where he'd observed Branco giving orders to the men from outside in the compound. The owner of the house had just returned from a very successful business trip abroad and Branco and his men were believed to have carted away a fortune that night.
The following morning, the mei-guard said he was shocked when he saw Branco in company of some other landlords in their compound, to sympathise with his boss. The dare devil Branco had called the frightened, poor man aside and threatened to end his life if he as much as suspected him of leaking any information about the previous night to anyone. Branco had told him that he spared him only because he was fond of him.
More terrible tales were told about Branco's activities, whether true or false, it was a free for all party. The Police had to drop the case against Branco and the poor woman must have been happy that she had her life even though she lost everything. And me, I learnt my lessons in a very hard way. But for God, I probably would have died that year.
I might have lost the house too as only my son had visited the site and my husband did not know about it at the time. I'm grateful and forever indebted to my friend too. Had she also insisted on getting her money back then, I would have had no choice but to also mount pressure on Branco to return my money. I know that you young people will not admit to doing anything shady things until things boomerang. I can only plead with you to be careful".
The post Infidelity: My romance with death (2) appeared first on Vanguard News.
Tags 2014
You may also like...