Ikpeazu's govt, a failure—APC chieftain
By Anayo Okoli
UMUAHIA—A former member of House of Representatives and chieftain of All Progressives Congress, APC, in Abia State, Iheanacho Obioma has described Governor Okezie Ikpeazu's administration in the state as a total failure, saying the state was going down rather than progressing.
Obioma accused Ikpeazu of running a government of nepotism to the detriment of the entire people of the state, saying Abia people are now wallowing in dejection as the PDP government has disappointed them.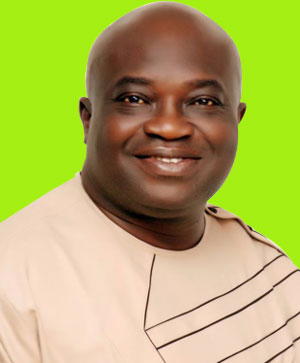 Obioma, who spoke in Umuahia, Monday, at an interactive session with journalists on the sideline of a meeting of the APC Mega Rally committee, coming up in Abia State, also said Ikpeazu hardly stayed around to concentrate on  the  governance, which he was elected to give the people.
According to him, the situation has become so bad that Umuahia, the state capital, has been totally neglected by the government, pointing out that even Aba, where the government claims to be working, has not fared better.
Obioma, who heads the committee, said that APC was working hard to take over the state because people are now frustrated, saying  2015 before Ikpeazu came was better than what they are seeing today.
"Our party is the party to beat in Abia, we will take over and remove this government of nepotism we have in Abia. Abia people now wallow in dejection and frustration."
"Nobody can honestly say the Government of Abia State is doing well; no matter what you get as individual, if you are sincere about it, you know that the Government has failed.
"So we need a change; people are even saying that 2015 was better for them, that shows you what we have on ground, despite all the bailout they received.
"To this Government, Umuahia is not the capital of the State. Umuahia has been totally neglected, nothing has been done. Even Aba where they claim to be working, it has not made progress; it is still lamentation all over. People are now moving to APC.
"Even the much talked about school children feeding is a Federal Government programme. This State can't afford to feed any child; it is a Federal Government project. Abia PDP has not done any job", Obioma said.
"Look at the Umuahia-Aba road, N1 billion has been paid to the contractor, I know this, but the job done there is not up to N100 million worth, they have shared the money. That is their system", Hon. Obioma alleged.
Obioma said that nobody is against Ikpeazu as a person but "we are against his pattern of government and non-performance; they are running a government of themselves and not government of people".
He said that APC now has large support base in the State and would soon kick off the mega rally from the council area in preparation to taking over power in Abia to install a "government for the people by the people and chase away government of nepotism".
The post Ikpeazu's govt, a failure—APC chieftain appeared first on Vanguard News.
Tags 2014
You may also like...