I was better in football than in athletics – Urhobo
How they chased us out of our father's church
T oni Urhobo is a name that needs very little introduction  to followers of athletics in the country. He was an athlete  of repute who was to become a coach, a period he produced some of the best athletes Nigeria has ever known in track and field. He also became the Chairman of Athletics Association as it was known then. He spoke with Jacob Ajom on his early days as a school boy all-round sports star. Excerpts.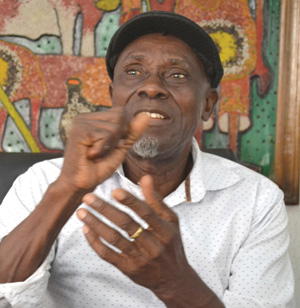 How did you start your sporting career?
I come from a home of a father who was an evangelist and at the same time he was sports loving. He loved sports. My father was one of the earliest Pentecostal founders in Warri, that was in the 30s. He founded a Christian church called GKS, God's Kingdom Society, in Warri with branches all over Lagos, Benin, Port Harcourt. I was the 5th son of my father. He was also into education. He used to be a headmaster. When God called him, he resigned from teaching and formed the church.
He had a big battle with his family because they thought he was crazy; how could he leave government job for preaching the Gospel. It was a very serious battle with his family, which they regretted at a latter date. When I confronted my uncle upon the death of my father, several years after, he told me they never knew that the church thing was a lucrative business and so they didn't support him because how could he have resigned from government work and started carrying microphones and loudspeakers and saying I want to preach the word of God. But my dad was very popular.
He was first a Roman Catholic, very knowledgeable in the Bible, then later in Jehovah Witness. When he got the vision, when the Holy Spirit spoke to him to go out and preach the Gospel, he had serious battle with his former Jehovah Witness members. Although I was a kid then in Port Harcourt, I wouldn't know much, some members of the Jehovah Witness came and fought him seriously, that he was preaching against their doctrine. He was almost killed in Port Harcourt. And so he faced a lot of trials and tribulations. Even the Catholic Church community saw him as a child of the devil, that he was being used to attack the church. He was a very brave man.
How did this influence your sports background?
At that time,he built the church in such a way that he introduced sports into the church. I remember, there used to be a football competition among the various branches of the church. It was a fanfare, a week-long event called 'the Feast of Tabernacle.' Delegates from Lagos would come with their football team, the ones from from Port Harcourt would come up with their own football team. It was like a gala. He loved sports and participated in it.
He sent his children to school. My elder brothers, two of them attended Government College Ugheli and I, too, attended Government College Ugheli. It was one of the best schools in those early days. My father died, I would say mysteriously, abruptly. Because he was sick for just about three days. I was just seven when my father passed on at the age of 49. I really missed him because after his death, everything fell apart in my family.
We, our father's children suffered a lot of persecution from the man who took over the church. The man who took over the church married my mother and started maltreating us. He stopped us from going to school. He stopped my elder brother from going to school. I was in class 2 in the secondary school in 1961. Our step father, had a problem with my elder brother. The year my father died was the year my elder brother was going to the UK to study. That was in 1952. He was on his way out. He had already moved to Lagos to take his flight to the UK when my father passed on. He had to postpone his flight, he returned to Warri for the burial.
While abroad, they stopped sending his school fees and asked him to stop schooling and return to Nigeria. But he refused to come back. As we were growing up, we were made to understand that they saw him as a threat; that as the eldest son of my father, he would one day want to take over his father's church and so they made things difficult for him. He also went and married a white woman, that was the woman who helped him throughout his stay there.
By the time he came back, they summoned him to a meeting and asked why he refused to return when they asked him to do so. They broke out with him, and he left them. The executive of the church sat and suspended him,and told the whole church that nobody should have anything to do with him. They went and dislodged the tires of the car that they bought for him. He was excommunicated from the church.
Few months after that they stopped us from going to school. For one and a half years I was virtually at home, with the explanation then that education was not good for children; just like what Boko Haram stands for; that western education makes children to go away from God. The man who took over the church was doing all that because his own children had not grown up to school age yet. But when his children became of school age, they sat again and changed the rule to favour those ones to now go to school. It caused a lot of problems in the church. Eventually, I left the church, my sister left and everybody in my family left the church our father started. In the process, two of my brothers died mysteriously.
When I was home, after they asked me to stop schooling, my Games Master — because I was an outstanding sportsman – made way for me. As a matter of fact, I was admitted into Warri Township School, Primary 5. I was in a private school and for one to get your First School Leaving Certificate one had to go to a government school so I decided to go to Township school Warri. I was to go into primary six but they said there was no space so I had to repeat primary 5. I passed to primary 6 the next year and sat and passed my standard 6 exam. There was something significant about my admission into that school because they said there was no space. The Headmaster asked me, who was then an uncle of mine but I didn't know. He asked me if I had any talent because the class was full. "Can you run?" he asked.
I asked him to bring his best runners in the school so I could compete with them. He went and brought them. They timed us, and I beat all their best sprinters. Then he asked if I could play football. During the break we played and I was an instant hit. I was offered admission immediately. And I became popular in the school because I was outstanding in sports. I was not among the best academically, but I was the only one offered admission into Government College.
They were other brilliant boys all over the place. But I believe it was God, because two of my brothers had already attended Govt. College Ugheli. When I went in for the interview, the Principal, a white man, only asked me, David, how is your brother Edmund? And what about Victor, and I said both were fine. I was given an automatic admission based on what my brothers did there while they were in school. But before then, they took us out for sports. During the interview they tried you in all sports – athletics, football and all. I scored very high marks that after the interview, it was the Principal that went to drop me.
As things turned out, I learnt some of the sports through my elder brothers. Each time they were home on holiday, I saw how they played and I observed with keen interest. I was the best poll vaulter in all the schools in the mid west then. When I got into Government College, from my class 2, I started breaking all records. I had that natural talent as all I needed from you was for you to demonstrate what you wanted me to do and that was it.
Our school had HSC and it was almost impossible for junior students to break into the school's senior team. I was one of the few who broke into the school team from my class three or four. I played alongside HSC students and they used to call me one name: Odeshu. When you are so good, they call you son of the devil. Like Messi is sometimes addressed as an alien. I was so fast, so athletic and they never got me. I was never injured. My talent was so special that after my class five, my brother who was paying my fees said he did not have money to pay for my Higher School education. I said okay. I returned to Warri.
One of the best schools then was Hussy College owned by two private individuals O. N. Rewane, the elder brother to the popular Alfred Rewane who was a lawyer. His children were my friends and when they came to our house they said to me, Toni, we want you to come to our school. I told them I had no money for further studies.
They assured me not to worry, they would talk to their father. The next day they came to our house they informed me that their father wanted to see me. When I met their father, he told me if I wanted to come to his school, he would offer me scholarship. I just kept quiet because I never believed it could happen. But when I summoned courage to speak, I told him that if he wanted me to go to his school I would go on one condition: and that was if my friend would also be offered admission and a scholarship.
I told him I could not leave Government College and leave him(my friend) behind. He asked me, is he also a sportsman? I said yes, because he threw javelin and also played football. Rewane then said he would give him a scholarship as well. This my friend was Temi Ejoor, who later became the Military Administrator of Enugu and Abia States.
That was how I ended up at Hussy College. After that I was invited to the Midwest Academicals. When we were preparing for the National Sports Festival, they now removed me from the football camp to athletics. The argument was that football has just one medal and there were always substitutes, while athletics had multiple medals. I was an all rounder in the sprints, long jump, high jump, pole vault etc. So they removed me from football and it pained me because I was better in football than in athletics. I was a top striker, I wore No 9. As they removed me, that marked the end to my secondary school football career.
When we were through with that, we went to All Nigeria Secondary Schools competition. I set a national record in Long Jump and eventually I became the number one athlete in the whole country. I set numerous records.
To be continued
The post I was better in football than in athletics – Urhobo appeared first on Vanguard News.
Tags 2014
You may also like...