I suspended the campaign to save lives – Charly Boy
…How I escaped death
By Luminous Jannamike
The  elements were bright and welcoming on Tuesday, August 15th  2017 when Charles Oputa also known as Charly Boy alongside members of 'Our mumu don do' movement showed up at the popular Wuse market in Abuja. Their singular mission was to deliver short talks and mobilize traders for civic engagement. Nobody could have guessed that in a matter of 60 minutes an unprecedented level of violence would erupt in the market, leaving many injured and several properties damaged.
While Charly Boy's contemporaries and age mates have left active service in their chosen fields of endeavour for a life in retirement, it appears life has remained evergreen for the 66-years-old maverick entertainer whose passion for good governance and advocacy has spanned over four decades. That same passion was what led him to Wuse market on that fateful day to inspire and mobilize fellow Nigerians for nation-building.
Though being able to raise questions that contributed to the discourse about the disclosure of President Muhammadu Buhari's health status brought joy and fulfilment to the social activist, it was not an easy experience as he had to equally endure being tear-gassed, harassed, and pelted with stones by miscreants.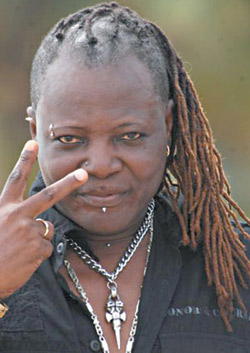 But why would a grandfather who has had a relative successful career 'waste' his time asking the President to either resume or resign?
In an exclusive chat with  Saturday Vanguard, Charly Boy said:  "Well, for the past 40 years of my life,  I have done several forms of advocacy for Nollywood, military pensioners, market women, Okada operators etc.
"If you notice, the country has been stagnating for the whole time the President has been away on medical vacation. Nothing seems to be working and nobody is aware of where we are going and how we are going to get there. The government itself is not really telling us what is really happening.
"Of course there are a lot of things that are worrying in Nigeria but you know that it starts from the head. The head, of course, is the Presidency.
"We were wondering; we were saying to ourselves, 'we know about the deceit, we know about the cover-ups, we also know about the lies people in leadership positions tell just to keep doing whatever it is that they do.'
"That is why we decided to join forces as the 'resume or resign' group, because we wanted to see how we could compel the few, not Buhari, who are responsible for this predicament, to open up to Nigerians on the truth. I mean those who are manipulating events within the Presidency to reveal what is wrong with our President so we can take it up from there.
"It was a quest for the truth and that is why we were going to the Unity Fountain at least one hour every day to sit-out and talk, and express our frustration especially on where Nigeria is today. Nigeria is stagnating today and everything is shrouded in mystery. And we don't understand," he said.
Though he was consistent with the daily sit-out at the Unity Fountain; the fact that he was advanced in years and had other fatherly obligations to perform towards his children, grandchildren, mentees and followers; made the exercise very tough for him and almost cost him his life.
Undaunted by the negative experiences and discouraging remarks from some prominent Nigerians who saw his decision to demand a better Nigeria as a waste of time, Charly Boy led his group to Wuse market to appeal to more Nigerians to join voices in demanding for the disclosure of President Buhari's health status.
According to him, he had successfully delivered a brief public lecture outside the market and was about to enter the market to speak to more traders when the head of the market Task Force identified simply as Musa denied him access. After some discussions, Musa 'freely' allowed him to enter the market in what appeared to be an ambush.
"We decided to go to Wuse market because as I said earlier; I do my advocacy in schools, in motor parks, in market places as well as the streets in several parts of the country.
"What we wanted to sell in Wuse market was the idea of change not coming from above unless people engage one another on key issues. To let the youths understand that they were part of nation building. They can't be staying at the corridors hoping that people who are inside would change things for them without their active participation.
"Let me say clearly that I did not enter the market forcefully; I am not a 'by force' kind of person. If you are going to preach to people that do not want your kind of preaching; that do not want to listen to you. You can't continue to preach. You just back off.
"I agree, they (referring to the market Task Force) had said 'No,' my group would not enter the market urging us to take our stuff to somewhere else. But later Musa, the Head of the Task Force was the same person that opened the market gate for us after we engaged him in friendly discussions.
"Inside the market, everything went well. We had finished our activity for the day. We had done our own little small talks. It was as we were going that all hell broke loose before we could get out of the market. We saw a bus load of people come out of nowhere and became very violent, we were shocked because our movement is that of peace. We were not advocating violence.
"Now with hindsight, we are thinking okay, Musa must have let us in as an ambush, because we also heard he was the one who organized the group of attackers. We also heard that he   knew all those kind of people around the market. It could have been an ambush," Charly Boy explained.
When Saturday Vanguard sought to know how he escaped the ensuing violence almost unhurt, Oputa said: "I was just lucky. Members of my group protected me as I was being pelted with stones. Some of them bore injuries for my sake. There was a biker at the scene of the violent attack who whisked me away. I did not leave in my car. My followers just told me to forget about the car and get on the bike which is what I did to escape."
According to Charly Boy, what he found most disturbing during the 10th -day of   'resume or resign' protest were not the physical attacks but the manner the Wuse market fiasco was given an ethnic colouration in some quarters.
"The most painful part of the entire resume or resign protest was the twisting of our message to the government and people of Nigeria.  Our peaceful message has been given an ethnic colouration.  The simple message of the youths being alive to their responsibility has been turned to 'Charly Boy is an Igbo man. He hates Hausa people so go kill him.'
"What detractors who hold this nation hostage are doing to fight us is  to twist our message because they are good at that. What they do is propaganda. Tribe and religion are what the cabal uses to manipulate the messages so the people can hate   one another while they continue what they are doing. We know the game," he said.
The popular entertainer cum activist revealed that though his suspension of the
protest came as a surprise to his closest allies, he was happy and fulfilled to save the lives of the youths who follow him through thick and thin.
Charly Boy explained: "So, after that attack at the market the resume or resign protesters didn't mind. One or two of my people were injured. They wanted to come out the next day. They were more emboldened. But I looked at it and thought to myself 'if they were my children, will I expose them to harm this way?
"The police on Tuesday had already tear-gassed us; sent attack dogs at us; water cannons etc. May be that was what gave the people at Wuse market the impetus to attack us. But I just felt it was wrong.
"They didn't know. They didn't see the announcement I made suspending the protest coming. But I knew I had to make that announcement to save our lives. Okay, we have made our point. Let's chill. Let's re-strategize because there is a lot to be done.
"To be fair to them as a father, I can't let them be more harmed. I am even feeling guilty and bad that some of them were injured. But you can't do these kind of things without casualties. Like they say, you can't make omelettes without breaking eggs. You can't get into activism like we have done without some mishaps here and there."
His message to the younger generation:  "the youths are their own biggest problem. When I see some young people I am more encouraged to know that some Nigerian youths are redeemable.
"For the past 40 or 45 years, I have been inspiring, motivating and gingering. There are so many people who pass through the Charly boy university; so many of them are successful in their respective careers. My job is to keep raising the consciousness of young people for them to know that prayer is good but God will not come down from heaven to help anybody. I am hoping that my lifestyle that includes my tenacity, consistency, sense of focus, doggedness, and hard work will leave last impression on their minds. These are the qualities of the Charly Boy brand they should embrace.
The post I suspended the campaign to save lives – Charly Boy appeared first on Vanguard News.
Tags 2014
You may also like...