I don't mind marrying a Muslim — Irene Ibekwe
By ADETUTU ADESOJI & TOLULOPE ABEREOJE
28-year old upcoming Nollywood actress, Irene Ibekwe is a single lady from Anambra State who was raised by her grandmother after she lost her mom very early in life. The graduate of Theatre Arts from Nnamdi Azikiwe University who is also a hair stylist lets us into her early beginnings and the journey so far in the movie making industry: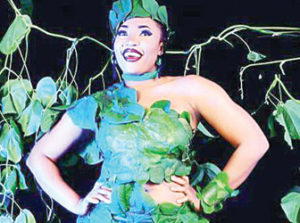 How did acting start for you?
Well, I started acting   professionally in 2015; although I registered for acting in 2010, I left after three months and returned in 2015. There was a time I accompanied a friend of mine to Asaba to see someone and I met Jim Lawson who happens to be an actor, I don't know if he is still into acting now. I told him I would love to go into acting and he gave me his contact that day. He later invited me to a location but the production manager for that particular movie told him that they were done with the casting. So, he sent me to one Venus Hotel, also in Asaba where actors were gathered. I was then invited for an audition the next day and I got cast; that was the first movie I featured in; it was titled 'Anointed Crew' and it was released in 2010.
What was your parents' reaction when you told them you wanted to study Theatre Arts in the university?
I actually didn't grow up with my parents; I grew up with my grandmother in the village while my father was in Lagos with my step mum. Like I said earlier, my mom is late, she died when I was very young and my grandma knew nothing about acting and my dad was busy with his wife. So, I was free to do what I wanted because there was no one to say otherwise and I haven't regretted that decision.
Can you recall your first time on set?
Honestly, my first time on set was fun! There was a scene we were asked to start crying because the king was dead, my colleagues and I were laughing because we saw it as a joke, and we didn't take it seriously. It was just as if I was playing.
Which movie do you consider your breakthrough?
The movie that brought me to limelight was 'Tears of Ulumma' and I must say that my fans have increased over time; it's not like when I just started as a baby actress. I have people that commend my acting.
So far how many movies have you featured in?
I have featured in not less than 25 movies between 2015 and now
To what length will you go to interpret a movie role?
I'll go to any length so long as I'm not going to go nude. I will do all it takes to interpret a movie role and make it real. I love making it real when I act, as long as I don't go stark naked.
What if you are offered a huge sum of money?
No, I can't! I have my policy, I'm a woman who is thinking of getting married some day and movies don't die even if it's no longer in the market, it's there on the internet. So, what explanations will I give to my children to why I went nude in a movie? I love protecting my image.
Do you think it is necessary to date big names in the industry to find your  feet?
It's not in any sense right. I argue this topic wherever it is raised. For the fact that it is called Nollywood industry doesn't make it any different from what is being done out there. It is a matter of choice. People dating married men for example, who aren't actors or actresses do it because they want to do it. It happens everywhere. But I always advise upcoming acts that they don't have to go sleeping around with producers, directors or marketers to get roles because if God says you won't make it through them, you won't.
Ini Edo seems to catch your fancy a lot; why is that?
We are not really close, believe me. I've only had the opportunity to work with her twice, first on 'Anointed Crew' and 'Echoes of Love' where I did only one scene with her. I have been her fan even before I thought of coming into the industry, she's my celebrity crush! I just like everything about her but we aren't close.
What movie role will interest you the most and why?
Well, that will be a role where I'm being maltreated because I seem to have affinity for such roles. Whenever I see where people are being maltreated, I see myself in their shoes and in that character. I also love playing the role of a troublemaker, you know, one always getting into fights and quarrels.  I just love that role because that is just me! I'm not the quiet type. I've been given the opportunity to play the first role though, but I've not been lucky enough to get the second one and I'm really looking forward to playing that role.
What are the challenges you've faced so far?
I have faced quite a few. I remember one time I was called for a job and the executive producer didn't want me for that role, they had to call someone else. I cried a lot that day because that was the first time someone thought my acting  was so bad that I had to be rejected.
Can you briefly give a general assessment of the Nollywood industry?
The industry has not really attained its full potentials yet but we are working towards achieving that in three to four years from now. We still make some mistakes which could be from the editors, the directors and even we, the actors. We still need better equipments. So, every aspect of the industry needs to grow.
Cinema movies or home videos; which do you prefer?
For now, I still prefer home videos. Home videos build new acts, because an upcoming actor cannot just jump into doing cinema movies. Home videos builds more stars, it is when the stars start to shine that they can start featuring in cinema movies. Besides, not everyone goes to the cinema to see films but home videos can be sold everywhere. So for now, I prefer home videos. It is true that cinema producers make more quality movie but I still think home videos come first.
Talking about marriage, are you in any relationship?
(Laughs) I'm not in any relationship at the moment and it's not everybody that gets married that starts with a relationship. I can wake up one day and meet my dream man, and all it takes is just to know  a little about him. We can date for a month or two because even if we date for five years, men can hide their characters. I may not know all about him even after we get married.
What qualities should your dream man possess?
My man must be God-fearing; that is the number one and most important. I also need someone that will pay attention to me, someone who knows when I'm angry and when I'm not just by looking at my face. A caring man, someone who will be like a brother, someone I can play with anytime, any day; not someone that will beat and insult me, and make me develop headache. I want someone I'll miss immediately he leaves me, a cool and calm person and I don't mind if he is a Muslim, so long as we love each other and he possesses all the qualities I want in a man. After all, we serve one God.
What's your take on the trending baby mama culture?
Well, everyone has their own opinion on the subject and traditions differ. These people doing this baby mama thing might like or want it. As for me, I can't be a baby mama because according to the tradition of my town, even if a lady gets pregnant and she's still single, the baby belongs to her family and not the father's. So, what's the essence of being a baby mama? As a lady, it's not good giving birth in your father's house; you'll be putting excess weight on your parents. I'm not even thinking about it and I won't even try getting pregnant when I'm still single but if I do I'll talk to my partner to come and pay my bride price.
The post I don't mind marrying a Muslim — Irene Ibekwe appeared first on Vanguard News.
Tags 2014
You may also like...