I didn't hand over official vehicles to Ativie —Oshiomhole
Orders her to return the vehicles or face prosecution
By Simon Ebegbulem
BENIN CITY—IMMEDIATE past governor of Edo State, Mr Adams Oshiomhole, yesterday, ordered the former Deputy Speaker of the state House of Assembly, Mrs Elizabeth Ativie, to return her officials vehicles to the new leadership of the House or risk prosecution.
Oshiomhole, who denied claims by Mrs Ativie that he (Oshiomhole) gave the vehicles to her as a gift, said: "It is criminal for her to make such claim because she, as a lawmaker, knows that I don't have such powers to do that. And if she is saying that she has sold the vehicles, that is criminal and she may face prosecution if that is true.
"Ativie has to return those vehicles and I believe that the government, whether the executive or legislative branch, has to follow the legal procedures to recover those vehicles and if she has privatised them, to charge her to court for stealing.
"I had a meeting, incidentally, with the members of the House few days after the change (impeachment) and I pointedly reminded her that she had to return those vehicles.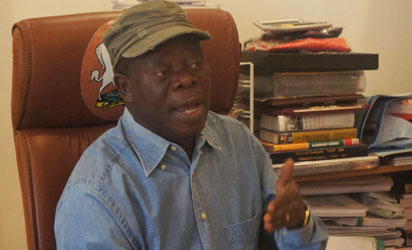 "On the eve of the governorship election, the House had reasons to make a change, which offset what we commonly refer to as the tripod. But once they made the change, the thing was either she resigned when the House realised that they agreed with the party that we needed to make an adjustment or they impeach the speaker.
"And they were not ready to impeach her because they said it would not be fair to impeach her, though there were arguments that, after all, she was married to an Esan man and, therefore, by marriage, she is Esan.
Not in position to give out govt assets
"One of the concerns she raised was that she now had the vehicles of the speaker. If she had to resign and be made a deputy speaker, she would not be entitled to those four vehicles.
"And we agreed that she can use the four vehicles as deputy speaker, for as long as she occupies the office. But that does not mean that the next deputy speaker would have four vehicles because the vehicles are for the office of the speaker but personal to you as deputy speaker. How does that amount to asset transfer?
"I am not in a position to give out government assets. The car that Governor (Godwin) Obaseki is using now, incidentally, was one of my official cars. The one he is using in Abuja is the one I handed over. They are not my property. It is true that governors have powers but those powers are derived from law, the limits of those powers are also well-specified in law.
"Nothing in the law empowered me to give out the property of the Edo State Government. I am not competent to do so,  so even if purport to do that, it would be illegal. Just like I reminded them (lawmakers) at that meeting, I told her that, 'Even as assembly member, how can you say that I gave you government property? Do I have the power to do that? You are a lawmaker, you should know the law.'
"Even as parliamentarians, there are laws you make that would be void, if they are in conflict with the constitution. So, there are limitations. So, I cannot purport to exercise powers that I do not have.
"So, if I cannot give cars in the Government House to people, why should I give out legislative cars? They belong to the parliament, which is another arm of government. The executive cannot appropriate or purport to appropriate those cars and give them to individuals."
On the claim that she was issued a letter handing over the vehicles to her, Oshiomhole said: "If it is anything done by me, I have told you what I did and I think it is very straightforward.
"First is that I never wrote her a letter donating government cars to her. No, I couldn't have, it doesn't make sense. I don't even have such powers, even if I wish to and if I am going to donate government cars, I cannot donate cars belonging to the Edo State House of Assembly."
The post I didn't hand over official vehicles to Ativie —Oshiomhole appeared first on Vanguard News.
Tags 2014
You may also like...