I am a Nigerian, says Kirk Franklin
…as he headlines Fearless concert at The Rock Cathedral
By Sam Eyoboka
WHEN Kirk Dewayne Franklin (born January 26, 1970), American gospel musician, choir director, and author declared last Sunday evening at the Rock Cathedral, Lekki in Lagos, that he missed Nigeria, it was not the usual entertainer's gimmick to stoke up patronage. Kirk Franklin known for leading urban contemporary gospel choirs such as The Family, God's Property and One Nation Crew (1NC), and has won multiple awards, including 12 Grammy Awards was the star performance at the just concluded gospel musical concert, "FEARLESS," at the ultra-modern Rock Cathedral of House on the Rock Church.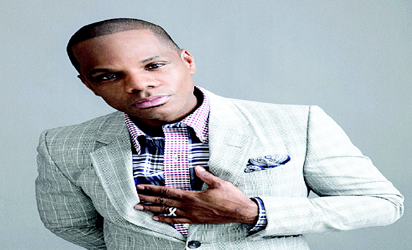 The American Pastor and gospel musician who visited Nigeria  five years ago, revealed his attachment to the nation at the event, saying that as Nigeria was marking its 56th independence anniversary last year, he was giving the hand of his daughter, Carrington in marriage to a Nigerian, Maxx-Nakwaasah. The beautiful ceremony, which held in Fort Worth, Texas, USA, was officiated by Kirk Franklin doubling as the father of the bride and the officiating pastor.
Information available to Vanguard indicate that the emotion-laden ceremony saw the then 46-year old father penning a note where he expressed his troubles seeing his daughter as a grown woman that she is now, stating that although she wasn't even gone at the time he was writing the words, he was missing her already. Carrington was legally adopted by the singer in 1989 and finally found love in the arms of the young African-American, whose father is Nigerian and mother, white-American. "She's getting married today… and I've spent an hour and a half rewriting this," Kirk Franklin wrote. "Crying, smiling, and preparing to let go… of my little girl. I will walk her down the aisle, then I will officiate the wedding. "Why? Because I'm selfish, for my little girl. And she asked her daddy to! How could I say no?! I pray I don't make a fool of myself and cry more than I speak. God, it's so hard to release her. If I could I would keep her a little girl, Forever. Selfish, I know. But at this moment, I want to be. "I want to go kart riding, jet skiing, middle school basketball games, movies over and over again….just me and her.
This is hard as Hell. She has no idea, cause she's not a daddy. I am. A proud one. I hope I was a good one. "I'm sorry for that one spanking you got that killed me more than it did you! I'm proud and love your future husband. Jealous, but proud. "He comes first now. I'll have to get used to that, cause I'm selfish, for you. "Only pictures get stuck in time, not people. They grow, and need to be let go…. I'm going to try really hard,…but please, when I see you with your new life, let me hold you every now and then, and pretend….that I'm never letting go. Forever daddy's girl. [Signed, A girl's daddy.]"
Fearless 2017, the second edition of the worship concert was bigger and better as Grammy award winner, Kirk Franklin headlined the event with Tim Godfrey and his Xtreme crew. The other artistes who performed included Frank Edwards, Mike De-Glorious, Onos, Wilson Joel, Nosa and Blessyn. It was a spectacular event where the radical gospel musician, pressed for time, virtually performed most of his hit songs and was amazed as the over 6,000 capacity crowd was not in any hurry to go home, sang along and heartily danced to every rendition. Earlier at the off-the-hook worship experience put together by Tim Godfrey and Rod Nation in collaboration with House on the Rock featured Tim Godfrey and his Xtreme crew literarily tearing down the roof with extraordinary electrifying performance to the delight of the senior pastor of House on the Rock, Pastor Paul Adefarasin, his wife, Pastor Ifeanyi Adefarasin, COSON chairman, Chief Tony Okoroji, Patrick Doyle among other on-air-personalities. It is also worthy of note that the crowd outside on the street was much more that the ones who made inside the hall to witness the spectacle. Speaking on the Fearless concert, the Metropolitan Paul Adefarasin said: "Tim Godfrey is a son and one of the icons raising the banner of Jesus using the tool of music and we are excited to be part of an historic concert hosting Kirk Franklin at The Rock Cathedral"
The post I am a Nigerian, says Kirk Franklin appeared first on Vanguard News.
Tags 2014
You may also like...