How my father's legacy affected us — Chike Ekwueme
Chike Ekwueme, managing partner of Ekwueme, Ekwueme & Ekwueme, a Lagos based legal practise is one of the sons of former Vice-President Alex Ekwueme who initiated the firm.
Chike, has been in legal practice for over 25 years and has garnered substantial experience in such areas of practice as Energy and Natural Resources, Corporate Finance, Intellectual Property, Foreign Investment, as well as in the Public Procurement and PPP sectors. He is a thought leader in presenting complex aspects of Nigerian law to clients and other stakeholders.
He also serves as consultant and effective strategic partner to clients involved in exploiting various investment opportunities in Nigeria including the sectors of gas, electricity, oil, mining, real estate, technology and telecommunications.
Chike in this interview with Vanguard talks about fond memories of his father, the late Dr Ekwueme as he is buried this weekend.
Excerpts:
By Chioma Gabriel, Editor, Special Features
Who was Dr. Alex Ekwueme to you?
Ide, as we called him was a man of passion. He was warm and very loving. He was a man that exuded joy and even when he was in prison after the takeover of Shagari's government by the military, he didn't let it kill his spirit. Even when he came out of prison, to be under house arrest, he was still the same joyful man. He never let any unpleasant situation dampen his spirit or defeat him. When he was released from Kirikiri and we went to receive him, he was fully bearded, and looked different from his usual self but he was full of joy and we could feel that the prison didn't kill his spirit.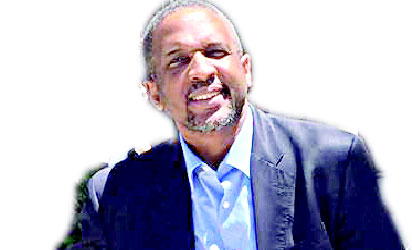 After the military take-over of their government, Shagari was under house arrest but he was in prison. Was he bitter about it?
He was not. But I was bitter about it. It was a time we needed him most as our father. We had a schedule of having dinner together every weekend. Despite how busy he was, he always found time for that family dinner. I personally did not find his incarceration funny. It was a very painful period for us really, knowing my father and who he was, a very principled man. And although I didn't know what was going on in government, I felt bad when people would ask, did your father really steal money?
And then, you imagine that after he was acquitted by the Uwaifo Tribunal,  he was not released.  In fact, investigations by the Justice Uwaifo Judicial Tribunal revealed that my father came out from that regime one million naira poorer than he was when he became the vice president. To ask more from him was to set a standard which even saints could not meet. Even after getting that clean bill of health,  he was kept under house arrest again and even back home in the village, he was confined to the house, then the local government and the state. We were disturbed by these levels of confinements, especially after nothing was found incriminating about him.
But my father preferred being in prison to what happened to President Shagari then. Shagari was restricted to a guest house. Those who read his book 'Beckoned To Serve' by Shagari would also notice his own feelings of being restricted. He couldn't talk to anybody, had nobody around him, they would serve him food, he would not say anything to the person that served him food. He couldn't even see newspapers to read. In prison, my father had other politicians around him and had time to fellowship and worship God with others. He encouraged other politicians, using himself as a former vice president in prison to encourage them in their conditions, especially when many of the prisoners were unjustly there.  Ide  introduced this camaraderie, such mutual encouragement to prisoners in Ikoyi prison and Kirikiri Maximum Security Prison. He actually preferred the option of being in prison and communicating with other Nigerians to house arrest.
How did it feel being Ekwueme's son when he was Vice President?
You don't know my father. He was principled and extremely strict. He didn't give us his children that leeway. I was in primary school and he would call us every day to take our pocket money, a crisp one naira note. In fact, I cannot remember whether the one naira note was for a week or a day. But I remember that by the time you buy sweet, chewing gum and ice cream at Ikoyi Club, the whole pocket money is gone. We were not living the way that people imagined. He made us very sober. But we were awed by the fact that our father was a great man and you are exposed to a lot of things. You walk into the corridors of power with all those security men everywhere and you will be treated like a prince. But my father was a humble man inside. There was no puffing up. My father didn't allow that.
When he was sick, all kinds of things were said about Anambra government not supporting him because your sister was in PDP, contesting against the governor, the FG owing him pensions and all manner of things. What was the truth?
It was not entirely true of what was said of the FG because once in a while, they went on holiday overseas and he was allowed to take an assistant. That I know.
Was it true he was flown abroad by the FG and abandoned in the hospital?
I don't know about that. I wouldn't comment on what I don't know.
What do you appreciate most about your father's legacies?
The six geo-political zonal structure which he initiated was just a singular thing. His goal was to ensure that it was written into the 1999 constitution, including the rotational presidency that would go with it. Even though he didn't get to doing that, there was and there is still this consciousness about it and this acceptance that presidency should rotate between the North and the South. Subsequent governments are conscious of this and that is what we call the 'Iroko Legacy.'
We hear about the South-South states and their derivations on their resources and my father also led the move for derivation. It was the Southern delegates at a national conference that wanted it. The North did not but when he was able to pull the whole South together and insist on it, the North had no other choice than to agree on the 13% derivation.
My father was a man of books and he always researched on issues and analysed them. He did that research in the house and analysed how resources were shared before and after independence and that was how they came about the 13% derivation for the South-South geo-political zones.
I thank God for the achievements he anchored but he has a greater legacy of working into two era of governments, the Second Republic and after. That is a bigger legacy. People would look at him and see a role model of what a public servant should be. I hope that model should be endeared even after his passing on.
How come none of his children is in active politics?
My younger brother is working with the Anambra government and you are aware, my sister was going to be the deputy governor if PDP had won Anambra. I am a lawyer in practice and a part time pastor. I am not in politics and you don't expect everybody to have the same calling. I was ordained pastor after my NYSC at Logos Aflame Ministries. When I was born, my father took a good look at me and told my mother, this one would be a pastor. My father had a great spiritual heritage. His father was a Catechist in those days when Christianity birthed in Igboland and was key to building churches in our local government area. That spiritual heritage has been passed on to us but I'm a pastor outside the Anglican Communion because Christianity is still spreading.
The post How my father's legacy affected us — Chike Ekwueme appeared first on Vanguard News.
Tags 2014
You may also like...