How Mariam Usman was decorated with Olympics medal in Abuja
Nigerian Olympic Nigerian Olympic  Committee (NOC) yesterday presented Mariam Usman with her Beijing Olympics Bronze medal in Abuja.Usman finished 5th at the Games nine years ago, but was upgraded to the to third after the silver and bronze medalists were suspended by the IOC for anti-doping rule violations, following a re-analysis of their samples from 2008. Usman is a four-time African champion and reigning gold medalist in her category at the Commonwealth Games.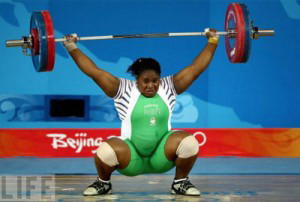 She also has a bronze medal from the 2011 World Championships in Paris.Meanwhile Nigerian weightlifters still have the hope of taking part in the 2018 Commonwealth Games in the Gold Coast, Australia, despite their inability to compete at the on-going Commonwealth Weightlifting Championships in that country.
The nation's plan of sending a strong team of weightlifters, made up of Chineye Fidelis, Oluwatoyin Adesanmi, Bilikis Otunla and Mariam Usman, to Australia for the Commonwealth Games trials were unsuccessful, as the Nigerian Weightlifting Federation (NWF) was unable to secure visas for the athletes early.
There was also the problem of insufficient funding.  However, the Secretary General of NWF, Umar Lambu said yesterday that hopes of making it to the 2018 Commonwealth Games was not lost yet.
The post How Mariam Usman was decorated with Olympics medal in Abuja appeared first on Vanguard News.
Tags 2014
You may also like...