How Justice Bola Ajibola foretold my ascension to the throne – Oba Adeyemi, Alaafin of Oyo
By Bashir Adefaka
The Alaafin of Oyo, Oba Lamidi Olayiwola Adeyemi III, is in the news again as his comment on Crescent University Abeokuta, Ogun State, CUAB, is revisited when he described the now 12-year-old institution of higher learning, founded by retired World Court judge, Justice Bola Ajibola, as a creative and innovative centre impacting sound and qualitative education into the youths.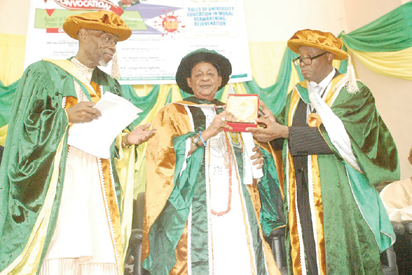 The traditional ruler, who sits on one of Yoruba's most powerful thrones, during the 11th convocation ceremony of Crescent University, became the first Nigerian traditional ruler to be Chancellor of three universities concurrently with his installation as Chancellor of CUAB at the occasion also attended by a former Head of State, General Abdulsalami Abubakar.
Alaafin, apart from Crescent University, is also Chancellor of University of Maiduguri, Maiduguri and the Bells University of Technology, Ota.
In his acceptance letter, Adeyemi said he had for the past 10 years been following with keen interest the contributions of Crescent University to the development of education in the country, especially at the tertiary level.
The Iku Baba Yeye said, "I made bold to say that the summary of my observation in the last decade is that Crescent University is not only creative but also innovative as a centre of learning that impacts sound and qualitative education into our youths."
The monarch, who is also a recipient of honourary degree of Doctor of Science Public Administration of CUAB, expressed his profound gratitude to the proprietor, Ajibola, and the management of the university for the honour bestowed on him.
He added that looking objectively at the background of the university vis-à-vis the character of the proprietor, "one cannot expect anything less than such a creative and imaginative person; an international jurist par excellence who had carved a niche for himself as a pride of the black race by distinguishing himself excellently as the President of the International Court of Justice."
The Alaafin further explained that he met with the proprietor of the Crescent University over 50 years ago when he came to his office and informed him that the late Chief Akin Olugbade wanted to see him.
While extolling the virtues of Ajibola as a brilliant lawyer, Adeyemi said the Olori Omo Oba Owu pronounced him before Olugbade as the next Alaafin of Oyo.
Meanwhile, the monarch assured the Crescent University board, the governing council, the management, staff and students that he would put his 12 years' experience as pioneer Chancellor of Uthman Dan Fodio University, Sokoto to play in the university, whose 12th convocation comes in October this year and the Alaafin will be on ground to perform his official duty as Chancellor.
The post How Justice Bola Ajibola foretold my ascension to the throne – Oba Adeyemi, Alaafin of Oyo appeared first on Vanguard News.
Tags 2014
You may also like...