Herdsmen killings: Women, youth groups threaten nationwide protest
By Luminous Jannamike
ABUJA—AGGREIVED women and youths under the aegis of Women, Youths, Peace and Security Network, yesterday threatened to mobilize other concerned women and youths from the 36 states of the federation for a nationwide mass protest, if the Federal Government failed to stop the continuous killing of innocent citizens by suspected herdsmen.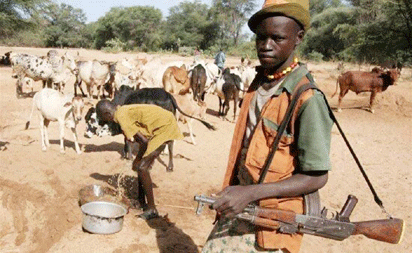 At briefing in Abuja, the Spokesman of the group, Mr. Andy Iji, urged the Federal Government to not only make an emphatic statement supporting the Ranching of Cattle as the best practice around the world, but also drop the idea of cattle colony.
According to Iji, if the killer herdsmen identified by the Federal Government were not Nigerians, they should be rightly profiled and deported from Nigeria immediately.
He said: "The continues killings of innocent citizens in cold blood across Nigeria has given us sleepless nights as an organization whose duty is to speak on behalf of women and youths on issues concerning peace and security. There is hardly a day without an attack from the herdsmen. In these killings, women and children are mainly the victims. We are profoundly disappointed with the inability of the government to protect lives and properties.
"We have heard the Federal Government saying that the killers are not Nigerians. Yes, that is what we want to believe, because we love the Nigerian Fulani herdsmen and we patronize their businesses and respect them. But the air in Nigeria is contaminated with the blood of the innocent and the Creator is angry with us."
"While acknowledging the efforts of the federal government by deploying police men to Benue state and other flash points, we demand of this administration to urgently put an end to these killings by cultists and armed herdsmen. It is about time the Federal government, state governments and the communities consider the recommendations herewith and implement them urgently. The federal Government must profile the herdsmen and deport those that migrated into the country illegally; make an emphatic statement supporting the Ranching of Cattle as the   best practice around the world and drop the idea of cattle colony; order the police and other government owned security agencies to be proactive instead of reactionary as always being the practice; provision the needed equipment for the security operatives to perform optimally; and, arrest as well as prosecute the killers openly and promptly.
The post Herdsmen killings: Women, youth groups threaten nationwide protest appeared first on Vanguard News.
Tags 2014
You may also like...