Herdsmen attack: I can't stand slaughter of 76 people as in Benue – Umahi
… bars Fulani herdsmen from troubled Ebonyi community
By Peter Okutu
ABAKALIKI-GOVERNOR David Umahi of Ebonyi state yesterday barred Fulani herdsmen from entering Enyanwu Igwe village, Igbeagu community in Izzi local government area of the state where the last incident of Herdsmen/farmers clash took place pending the conclusion of investigation into the incident by the state government.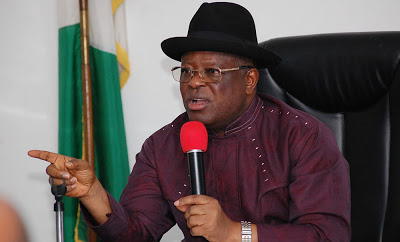 The Governor stated this during an enlarged security meeting at the
government House, Abakaliki Both the Governor and the National Chairman of Myetti Allah, Alhaji Bello Bodejo warned that the incessant killings by herdsmen might
spark-off national war if not properly addressed even as they called
for caution in handling the herdsmen menace in the state.
The last incident left four persons dead with two still in critical conditions.
Leaders of cattle herders in south east and south south states, stakeholders of the troubled community as well as all the security chiefs in the state were in attendance during the enlarged security meeting.
Addressing the gathering, Umahi who described the killings in Enyanwu Igwe village as unprovoked killings, ordered herdsmen around the area to leave the place until he calm the embittered villagers down to avoid reprisal attack.
"It is unprovoked killings, life is so sacred. You can't kill people as if they are fowls. Izzi people are warriors, I physically held them not to go for retaliation. The herdsmen there in Izzi have to leave the place for now until I can calm everybody down. The way we are going, it can provoke national war and it will not help anybody. If there is reprisal attack, I will hold all the leaders squarely responsible, I will charge all of you for any reprisal attack.
"The lives of every Ebonyian is very dear to me. God forbid, I can't withstand where 76 people were killed like in Benue, I can't withstand it. Some people may be fighting to die but we fight to live, lets use wisdom and handle the matter.
"This is a National problem; we don't want our people to continue killed. We must use wisdom to handle this problem. It is very easy to say I want all the herdsmen to leave Ebonyi but there are lots of implication", he said.
He regretted that agreement reached between the state and herdsmen in the area for peaceful co-existence have been destroyed.
"We banned under aged herders, we banned night grazing in the state. We have no grazing routes in Ebonyi which means that nobody has the right to carry cattle by route to Ebonyi state and we agreed on that.
We also agreed with the Herdsmen that the first offender must be prosecuted. We also said that no farmer should go to farm with gun and no herdsmen should rear cattle with gun or matchete, it is stick. We must abide by these rules".
While addressing Umahi, National Chairman of Myetti Allah, Bello Bodejo corroborated with the Governor that incident killings in the country can cause chaos in the country.
He said the state has been very accommodative to the herdsmen, warning that it should not be abused.
"Ebonyi state is very peaceful and it is accommodating to our members. It has been so accommodating to our members even more than some Northern states of the federation and we condemn these killings in this state . There are minors and migrants who are causing these lots of problems. There are also criminals moving as cattle herders who are causing these havocs. The Chairman of Myetti Allah of various states in the south east and south are all here and we are not happy with what happened, we condemn these killings in totality.
"Nigeria is confronted with so many security challenges and one of them is the unfortunate farmer/herder conflict. If this conflict is not resolved, it has the potential of throwing this country into unnecessary chaos", he said.
Meanwhile, the National Chairman and the leaders of the herders across south east and south south will meet with the herdsmen in the state for two days over the crisis.
The post Herdsmen attack: I can't stand slaughter of 76 people as in Benue – Umahi appeared first on Vanguard News.
Tags 2014
You may also like...