Groups to IPOB, MASSOB: Blame Igbo leaders for your woes
…N-Delta, Middle Belt youths warn against hate song, speech
By Chioma Gabriel, Editor, Special Features
Two  Igbo pressure groups,  Igbo Peoples Congress and Igbo Aborigenes, have called on the leadershhip of Indigenous People of Biafra, IPOB, and Movement for the Actualization of the Sovereign State of Biafra, MASSOB, to first put their searchlight on the political leadership in Igboland, which has been pauperizing Igbo over the years before blaming the North or other Nigerians for the Igbo woes.
They noted that Igbo have occupied all known positions in Nigeria except the executive presidency and this did not translate to any thing positive for Ndigbo.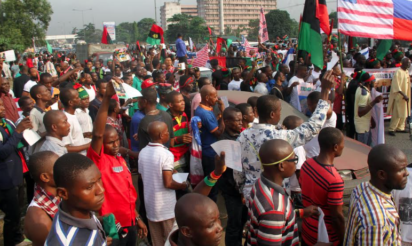 According to them, during the Jonathan regime, Igbo constituted more than 50 percent of his inner cabinet and yet nothing was brought for Ndigbo by these appointees except their familiies, girl friends and bootlickers. "Its these people that IPOB and MASSOB  should first query before querrying Nigeria.
"What about Ralph Uwazuruike, who made Igbo to be the minority of the majorities courtesy of preventing Igbo from participating in the 2006 national census. Is that not affecting Ndigbo today and do we blame Nigeria also for that?
"What Nigeria has done to Ndigbo is lamentable but what Igbo have done to themselves is even more lamentable.
"How many times do our Igbo govenrors and leaders make concrete case to empower our suffering youths as Niger Delta governors and leaders who strenously made case for the amnesty deal, which has now seen to the empowernment of more than 200,000 Niger Delta youths and their placement on a stipend of N65,000 every month?
"Nnamdi Kanu and pro-Biafran agitators should ask themselves these questions and not just  blame Nigeria and the North for all Igbo woes."
Sack of non-indigenes by states
The groups also  lambasted past governors of Enugu, Abia and Imo states for the sack of Igbo from other states working in their public service. Enugu State did it in 1997 and 1998, Abia and Imo states in 2012and 2014.
They said: "In the exercise, thousands of Igbo from other states working in the public service of the mentioned states were wickedly sacked with their entitlements not paid till date. Many of the affected workers have died and others in sorry state.
"This heinous act cannot happen in Yoruba land or Hausa land where indigenes of the various states work  in any other states in the area. We cannot be talking of Biafra or justice in Nigeria when in our own backyard, inequity and descrimination reign supreme."
N-Delta, Middle Belt youths warn against hate song, speech
Meantime,  a coalition of Niger Delta and Middle Belt Youth groups met in Abuja and in a joint statement warned against hate speech and song circulating against the Igbo in the North. They called on the Federal Government to apprehend the authors of the messages and song.
The groups, Coalition of Niger Delta Youth Organisations, CONDYO  and  Congress  of Middle Belt Youths, COMBEY, in the joint communique signed by Pepple Digifa and Ntom Federick  also condemned the quit notice against northerners and Yoruba in the Niger Delta by some Niger Delta youths.
They assured the Notherners and the Yorubas in the Niger Delta of their safety anytime and any day. But at the same time they condenmned the quit notice to Igbos in the North by some misguied Arewa Youths . They called on leaders of the North to caution the Arewa Youths as they should realise that 2017 is different from 1966 to 1970.
The post Groups to IPOB, MASSOB: Blame Igbo leaders for your woes appeared first on Vanguard News.
Tags 2014
You may also like...