Gov Ortom slams Buhari, Osinbajo, NSA, IGP; says they ignored warnings of attack
…Lampoons Gov Lalong
By Henry Umoru
GOVERNOR   Samuel Ortom of Benue State, yesterday, told senators that prior to the crisis that engulfed the state, which led to the killings by Fulani Herdsmen, President Muhammadu Buhari, Vice President Yemi Osinbajo, the National Security Adviser, Babagana Monguno, and Inspector General of Police, Ibrahim Idris, all ignored several warnings of the planned attack on Logo and Guma communities in the state.
73 persons were left dead in the attack.
Making the shocking revelations yesterday, during a  meeting with the Senate Adhoc Committee on Security Infrastructure, led by the Senate Majority Leader, Senator Ahmad Lawan, Governor Ortom also blamed security agencies for the continued killing of inhabitants of the state by Fulani herdsmen since 2008.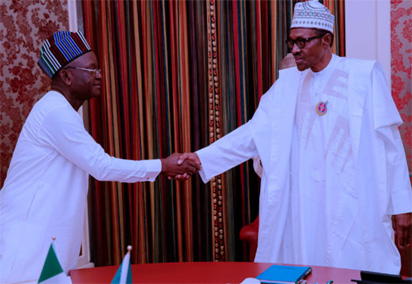 The governor, while lamenting the brutal killing of his people, told the senators that when he got the information of the planned seige by Fulani herdsmen on targeted communities in Benue State, said he immediately wrote a letter to the Vice President, Yemi Osinbajo, who was acting on behalf of President Buhari, who was away for medical treatment in London.
He told the senators that all  attempts  to get the Vice President's attention through the letter fell on deaf ears, as he got no reply whatsoever from him, just as he said thatPresident Buhari, upon returning to the country, was also written to, severally, but no reply was also received from the President on the matter.
According to him, additional efforts were made by the Benue State Government to draw the attention of the National Security Adviser, Babagana Monguno, to the threat which was contained in a separate letter addressed to him, but still got no communication from him.
In the words of Governor Ortom: "We wrote to the Vice President on the planned attack on parts of Benue by Fulani herdsmen, because the word was everywhere on the street, but he refused to reply.
"And when there was no response, and when Mr. President came back, I personally went and intimated him, and also wrote. The documents are here, I will hand them over to you. I wrote to him on the planned attack by Fulani herdsmen because this threats were on the streets.
"I intimated Mr. President and it was put into writing. On the same October 7, 2017, I wrote to the Inspector General of Police.  I told him of a planned attack on our people when there was no response. October 27, 2017, I reminded him that these people are planning to attack us, we are law abiding, we have disarmed our youths, and we are looking unto security agencies. And the way to do it is to arrest those people who were inciting the herdsmen to combat us, and we knew they were going to come.
"These people were all over the place; on television, in papers, doing various press conferences, and they eventually took us to court. But we felt that it is a crime for anyone to incite people against us with the purpose of killing or causing harm, destruction. So we expected them (security agencies) to act, but there was no action."
"Of course I wrote to the Senate President for information, and the Speaker. I also wrote on 7th of October, when I was writing to the Acting President and Inspector General of Police, to the National Security Adviser on this planned attack against Benue people. I also wrote to the Director General of the Department of State Service (DSS). And when there was no action, I followed it up with a reminder on 27th of October, 2017. So, that was it, and I also on the 17th of October, I wrote to the President, I copied the National Security Adviser. There was no response. Of course, the National Security Adviser invited us for a meeting two times but it was put off."
"This is very sad. Those people who are responsible for these killings, I know. I accuse them and I have evidence against them. They are on newspaper publications, they are on video, they are on audio, and they are known."
"If I had wanted to buy guns, I wouldn't wait. But if I bought guns and gave to those people, would my people have been killed in the manner they were killed?  I disarmed the people. I've not bought a single gun, I'm a Christian. If I bought, I would say yes.
On allegations by Plateau Governor, Solomon Lalong, that he was warned against introducing the anti-grazing law in Benue, the Benue governor said: "How can you warn me? Am I the governor of Plateau State, Or am I his staff? Do I work for him? I'm Governor of Benue State, and my responsibility is to do what my people want. That is what democracy is.
"So when you and castigate people about because you were induced by someone, and you come out to make those kind of statements, then it's unfortunate.
"Remember, this is the same man, a double standard person, who told me when I visited Jos three weeks ago, he told me that he is under pressure by his people to do the same law that I did in Benue State. He told me this, he never warned me anywhere. He's just trying to use that to blackmail me, what crime have I committed."
Ortom continued: "Is this how we want to continue as a country? Where some people are given privilege to be lawless?"
Earlier, Chairman of the Senate Committee on Security Infrastructure, Senator Lawan, who noted that  the intent behind the constitution of the panel was to ensure a review of security infrastructure in the country, said that the leadership of the upper chamber felt "this was necessary due to the current rise of insecurity in Nigeria", adding that "the way our security apparatus is arranged, citizens are not properly and effectively protected."
Blaming the spate of killings around the country on security agencies, Senator  Lawan said, "I think something is amiss. It is either they have deficiencies or they are not cooperating between themselves.
Members of the Senate Adhoc Committee on Security Infrastructure who visited Benue state to investigate the recent killings include: Senators Abu Ibrahim, Sam Egwu, Abba Kyari, Barnabas Gemade, Biodun Olujimi, Joshua Lidani, Emmanuel Paulker and Yahaya Abubakar.
The post Gov Ortom slams Buhari, Osinbajo, NSA, IGP; says they ignored warnings of attack appeared first on Vanguard News.
Tags 2014
You may also like...