#FuelScarcity: Propose a bill on right to regular fuel supply, SERAP tells Buhari
Socio-Economic Rights and Accountability Project (SERAP) has urged President Muhammadu Buhari to "take bold action in tackling the persistent fuel scarcity in the country by urgently proposing a bill to the National Assembly that would explicitly recognize access of Nigerians to regular fuel supply as a human right, with specific responsibilities on the authorities to proactively prevent and combat the problem and the associated human rights violations."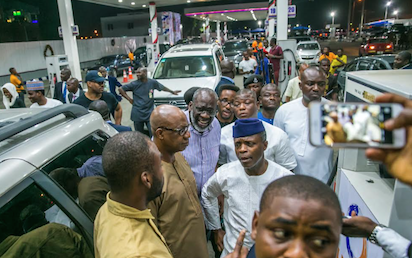 The organization said, "That millions of Nigerians are suffering due to fuel scarcity is a moral outrage. Preventing and ending the problem of fuel scarcity is not only a moral duty for this government but also a legal and human right obligation."
In a statement today by SERAP deputy director Timothy Adewale, the organisation said, "Access to regular fuel supply is logically derived from the people's right to their natural wealth and resources. Oil shouldn't be a 'curse' for Nigerians; being endowed with natural resources ought to be a synonym for wealth and development, and not extreme poverty and suffering. The recognition of the right to regular fuel supply would be a building block to initiate the chain of decisions necessary to prevent the dire effects of persistent scarcity."
According to the organization, "Given the persistent problem of fuel scarcity in the country, the appropriate course of action is to explicitly establish a human right to regular fuel supply and to criminalize hoarding of fuel by marketers. Recognition of the right to regular fuel supply is the best opportunity to thwart scarcity and its effects, and improve access for large portions of the country's population."
The statement read in part: "The issues involved in fuel scarcity stem largely from the lack of recognition as a human right. Fuel is required for a range of different purposes to realize many human rights. In the short-term, Buhari must move swiftly to end the fuel scarcity, and end fuel price jumps by marketers, if his government is to reverse the growing unemployment and hunger for tens of millions of poor and disadvantaged Nigerians."
"Persistent fuel scarcity is contributing to the deprivation of Nigerians' right to secure a livelihood, which in turn is seriously encroaching upon the quality of life they enjoy. SERAP believes that the constitutional right to life must at least ensure access to these basic survival amenities if it is to have any significance for a large percentage of our population. This constitutes an encompassing view of humanity."
"While the recognition of the right to regular fuel supply may not allay current suffering, it would place the issue of scarcity and human need at the forefront of national discourse. If recognized and implemented, an official statement of the right to regular fuel supply would force the government to be more proactive in preventing fuel scarcity, and making the necessary policy changes to ensure that access would not be disrupted in the future."
"Government would be held accountable for its action and would be responsible for adapting its policies to include the goals of repairing and maintaining our refineries and citizens' access. Fuel scarcity will not be solved through policy decisions or legislation alone, but will also require the coordinated efforts of the entire institutions of governance and anti-corruption agencies to combat the systemic corruption and impunity of perpetrators in the oil and gas sector."
"SERAP is concerned that the exploitation of the country's natural resources has historically gone against the interests and fundamental human rights of disadvantaged and marginalized Nigerians. We note the 1962 General Assembly resolution 1803 (XVII) which declares in its preamble that states' right to dispose of their natural wealth and resources must be exercised in the interest of their national development and the well-being of their people."
"Under international human rights law, the government has obligations relating to the provision of services such as fuel, required for the enjoyment of human rights. Even where such services are provided with the involvement of private sector, the government is responsible for ensuring quality, affordability, and accessibility and has the duty to protect individuals against abuses committed by private service providers such as oil marketers."
"Successive governments since the return of democracy in 1999 have failed to ensure availability of fuel nationally, thereby rendering already impoverished citizens incapable of satisfying their minimum needs for survival. Buhari should send a strong message that his government will not tolerate a situation under successive governments, which permitted increasing wealth for some and perpetrating a growing poverty for others."
"According to a 200-page report by Nigeria's House of Representatives corruption in state-run fuel subsidy scheme drained $6.8bn from the country's treasury over a three-year period. This resulted in increased spending on oil hand-outs between 2009 and 2011. Fuel subsidies, part of a decades-old programme meant to keep fuel prices low for millions of ordinary Nigerians, jumped to 2, 587 trillion naira from 384bn in the period."
"The report identified the Nigerian National Petroleum Company, ranked the world's least transparent state oil firm, as the key culprit. The firm was single-handedly responsible for almost half of the siphoned subsidy funds and was 'found not to be accountable to anybody or authority'. Seventy-two fuel importers, some with allegedly close links to senior government officials, were also singled out. In one case, payments totalling exactly $6.4m flowed from the state treasury 128 times within 24 hours to "unknown entities".
The post #FuelScarcity: Propose a bill on right to regular fuel supply, SERAP tells Buhari appeared first on Vanguard News.
Tags 2014
You may also like...