FG's failure to provide security bane of herdsmen/farmers clashes – Varsity dons
By Elizabeth Uwandu
Scholars at the Faculty of Social Science, Lagos State University , LASU Ojo, have blamed federal government's failure inadequacy in providing security and lack of political will to take decisions among several factors for the incessant herdsmen/farmers clashes and the proliferation of arms witnessed in the country.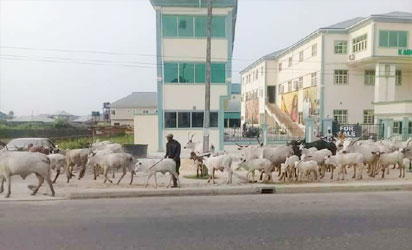 The scholars who said both herdsmen and farmers were victims, pointed out that heinous crimes were carried out on indigenous settlers by the herdsmen yet no arrest had been made.
Speaking at a seminar tagged , " Herdsmen/farmers killings, colonies, ranches intricacies and the reality of herdsmen crisis in Nigeria: understanding the issues."organised by the faculty, Dr Sylvester Akhaine said that government's failure to tackle the issue of insecurity , especially as regards the killings of indigenous people by the herdsmen has made Nigeria to be a conquest by few elites.
" Aside the alleged desire to create cattle colonies in every state of the federation which is impossible, the high rate of Fulanis attacks on indigenous people makes Nigeria to be a conquest ruled by few individuals. " added Dr Akhaine.
Attributing the high rate of elders/farmers attacks as having political undertone due to alleged passive indifferent attitude of the government, Dr Akinwale Aderemi alleged that the interest of one percent of powerful individuals who own cattle, was responsible those who went about perpetrating evil with impunity "While one percent of herdsmen own cattle, the rest 99 percent do the bidding of these owners. So, if these attacks and killings were communal clashes, why has no single herdsmen been apprehended? Again, government's lack of statement to condemn these attacks and the inability to visit the affected areas are questionable; as no responsible government would keep calm in the face of these killings." noted Dr Aderemi.
Dr Dele Seteolu who also blamed the presidency noted that despite the issue of herdsmen/farmers clashes being an intricate one, the state has failed in the capacity to protect lives and properties. "The security system does not reflect the multi facets nature of Nigeria. And since, the government has failed in its duties, Nigerians should stand for their rights. " added Dr Seteolu.
Calling for solution to the issue, Dr Bakare Ibrahim, Dr Mrs Jemeila Yakub and Dr Samuel Oluranti said rather than engaged in talks without action, Nigeria leaders should address challenges such as porous border system ; insecurity; high rate of illiteracy; growth of refuges; media bias and the proliferation of arms etc.
" Our leaders need strong political will to be able to provide equal treatment for all stakeholders where sacred cow syndrome is eliminated; land lease should be encouraged for grazing and adequate compensation should be given to victims of these clashed. " said Dr Oluranti.
The post FG's failure to provide security bane of herdsmen/farmers clashes – Varsity dons appeared first on Vanguard News.
Tags 2014
You may also like...