'Fashola's performance passes integrity test'
By Gabriel Olawale
A pro-democracy organisation, Centre for Dignity in Governance, CDG, has said that the performance of Minister of Works, Power, and Housing, Mr. Babatunde Fashola (SAN), in office has passed dignity test.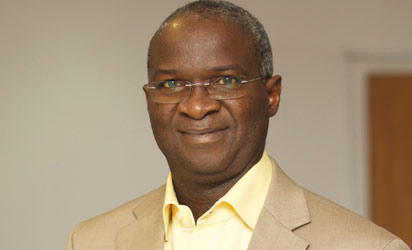 A statement from the group's President, Mr. Razaq Olokoba said his organization has subjected Fashola's performance to integrity test and he has passed, disclosing that, "the exercise is an annual event."
The group, therefore, advised President Muhammadu Buhari not to tamper with his winning team because nobody dismantles a winning team.
The group's position in was reaction to the call on the President to sack the minister along with others by the Centre for Anti-Corruption and Open Leadership, CACOL.
CDG, in the statement, backed President Buhari in giving Fashola the three ministries to handle reasoning that, "the step is not to empower an individual but rather to give him more responsibilities to safe cost as an example from Britain."
The statement read: "The call for Fashola's sack at a time the nation is expressing gratitude on the improvement of power supply, a direct result of Fashola's hard work is misplaced. Nigerian Electricity Regulatory Commission (NERC), is now more active, according to the judgement of Nigerians in favour of Fashola.
"The achievements on the new road networks across the country, praised by everybody including the opposition, 2nd Niger Bridge, Lagos-Ibadan Expressway are good examples of Fashola's achievements in office."
The post 'Fashola's performance passes integrity test' appeared first on Vanguard News.
Tags 2014
You may also like...