Fashola attributes 'success' in power sector to incremental power
By Ediri Ejoh
Minister of Power, Works and Housing, Mr Babatunde Fashola, has ascribed the development in the country's power sector to the inclusion of incremental power in its programme.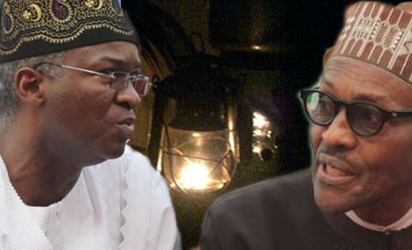 In a statement made available to Vanguard, the minister said the power sector had come a long way from its epileptic nature over the years.
He said: "I will like to start my remarks by highlighting the progress and milestones on our journey for incremental power, which reassure us that we are on the right path and inspire us to continue with more belief.
"Those milestones are represented by the fact that generated power has gone up to 7000 MW in 2017 from 3,000 MW in May 2015; Transmission capacity at 6900MW in 2017 from about 5,000 MW in May 2015 and peak distribution now averaging 5,000 MW in 2017 from 2,690MW in 2015.
"They tell me that their consumption of diesel and petrol to run generators for power has reduced and the hours they run their generators have gradually reduced. This is the result of incremental power and we must get more of it.
"In the last three months, we have increased the supply of power in the dry weather and people's experience with power was better. We must thank the Ministry of Petroleum Resources for the increase in gas supply.
"The cynics who used to say that it is only during the rains that power improves now see that what we have done is no fluke. Apart from gas, other stakeholders are also taking commendable steps."
He added that the ministry was putting together a policy position to help expand the distribution network of the DISCOs "and use this to distribute the 2000MW that is currently available but cannot be distributed.
"I also use the opportunity to call on the manufacturers to let us know where they are. How much power they need, and how we can connect you because we have 2000 MW of undistributed power."
For 2018, the minister explained that his ministry was working harder to increase Nigerians' access to meters and reduce the incidents of estimated billing as NERC concludes the meter regulations that will open up the meters supply and installation business.
"In the first few days of the new year we suffered a setback to our power supply which was caused by damage to the gas supply network around Okada.
''First, I want to repeat that gas is the fuel that most of the generation companies use to produce electricity and all of us have a stake in ensuring that they are not damaged."
However, the Minister noted that: "I am happy to inform Nigerians that as at last night the Nigerian National Petroleum Corporation (NNPC) informed us that repair have been completed. We thank and commend them for their response. What remains is to test the lines and restore pressure and supply to the generation companies."
The post Fashola attributes 'success' in power sector to incremental power appeared first on Vanguard News.
Tags 2014
You may also like...