Farmers/herdsmen crisis: Institute advocates stringent measures to avoid anarchy
Prof. Oshita Oshita, the Director-General, Institute for Peace and Conflict Resolution has advocated stringent measures to curb the lingering farmers/herdsmen clashes in the country.
Oshita said this on Friday in Abuja at a media roundtable to discuss and find solutions to the farmers/herdsmen attacks in parts of the country organised by the Search for Common Ground, an NGO.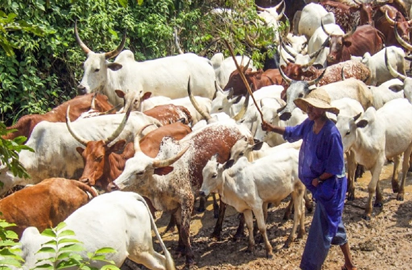 According to him, the crises can degenerate into a security dilemma, a scenario whereby everybody resolves to owning weapons to protect themselves for fear of the unknown.
He said it could also be due to the uncertainty they were feeling believing that the government could not protect them.
"So we need to take serious measures to end the farmers/herdsmen crisis and not take things for granted, so as not to have a warlord situation due to proliferation of weapons.
"We need to approach the crisis with all seriousness because it holds potential of redefining what our country really needs in terms of the political configuration.
"When many communities begin to do this, we will get to a situation characterised as security dilemma whereby everybody is getting one weapon or the other for fear of the unknown,'' he said.
Oshita said that this could become potentially very dangerous for the nation as it could breed more crises due to too many  arms in the communities.
He said that the institute had been doing a lot of research interventions to curb these crises across the country and had given early warning signs on the farmers/herdsmen crisis.
He said that in the institute's major publication, it suggested that herdsmen/farmers conflict was a thing to watch because of its delicate nature.
He said it was advised that the conflict could become very acidic, especially with the various perceptions of politicising it and also causing religious divisions and ethnicity into it.
"I hope that we face the conflict squarely by inputting strategic position at the national so that it can be addressed because in the absence of that, states will begin to do whatever pleases them,'' he said.
Mrs Bukola Ademola-Adelehin, the Conflict Analyst for Search for Common Ground and Project said the programme's objective was to focus on new developmental ideas to end the farmers/herders conflict.
Ademola-Adelehin said that a partnership between researchers and practitioners in the field of peace building and conflict resolution was necessary for policy makers in Nigeria to proffer lasting solutions to the conflicts.
"The major solution to solving this crisis is by searching for common ground between the farmers and the herdsmen in the various states, ''she said.
NAN
The post Farmers/herdsmen crisis: Institute advocates stringent measures to avoid anarchy appeared first on Vanguard News.
Tags 2014
You may also like...