Elechi blames squandered scoring chances for Go Round's troubles
Go Round FC of Omoku, a sub-urban in Rivers State is still going round the top flight of Nigeria's elite league less sure footedly than their fans would desire.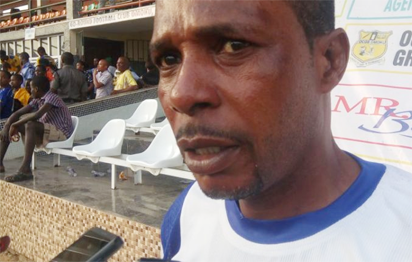 Perched on the 18th spot on the log after 15 games (with two rescheduled), the club played out a 1-1 draw with on-the-rise Niger Tornadoes at the Krisdera Stadium in Omoku, a result Ngozi Elechi, the Coach believes was not a true reflection of his players efforts on the pitch.
Elechi firmly contended in a post match exchange with www.npfl.ng that his team deserved outright win but were denied by profligacy in front of goal from several opportunities created.
The Lions of Omoku were the first to score against the Ikon Allah Boys when their skipper Nelson Esor slotted the ball beyond the reach of Mustapha Aliko before they allowed the visitors to equalize through Segun Alebiosu in the 44th minute.
Go Round had a clear chance 15 minutes after to regain their lead but that was fluffed by Chile Azu from the penalty spot.
In Elechi's estimation, it was rate their best game of the season with more chances created than they ever did in their previous matches.
"It was a disappointing outing by my team in terms of the result today (Sunday). We wasted lots of scoring chances because we should have been leading by three or four goals in the first half and it was also the same in the second half", Elechi lamented to npfl.ng
"I will say that my players' mentality in the game today (Sunday) was okay but the kind of chances they missed today was very appalling to me because we even had a penalty kick lost. We didn't do well today (Sunday) in terms of converting our chances.
"With this result against Niger Tornadoes, I am now a bit worried because even in Damaturu when we played against Yobe Desert Stars, we had two golden chances when our players were face to face with their goalkeeper but we were unable to score also. I know I have a lot of talking to do to my players especially the strikers that they need to calm down when they are in the 18 yard box", Elechi further stated in his assessment of the team's difficulties.
Admitting that they play well but lack the cutting edge in front of goal which has contributed to their languishing in the bottom three, Elechi insisted they will grow out of the challenges and stay up in the NPFL for next season.
"In terms of ball play, Go Round has improved seriously but we need to work seriously on converting the chances that come our ways. We played our best game of the season against Tornadoes and created a lot of chances but we couldn't convert them."
On their precarious position on the log with 18 points from 15 matches, Elechi is optimistic that Go Round will not be relegated at the end of the season as he has worked out ways out of their observed problems.
"Yes, Go Round will survive because I have seen the quality in the boys and after this game and in playing our next fixture against Kwara United, we are going to make some changes because we have some new players that we are going to field to reinforce the squad ahead of the second round," he added.
Source: npfl.ng
The post Elechi blames squandered scoring chances for Go Round's troubles appeared first on Vanguard News.
Tags 2014
You may also like...