Economic Hardship: Emir of Ilorin begs Govt to reduce cost of food Items
By Demola Akinyemi
ILORIN-The Emir of Ilorin and chairman, Kwara State Traditional Council, Alhaji Ibrahim Sulu-Gambari, yesterday urged the nation's leaders to device means of reducing the escalating cost of food items in order to reduce the suffering of the masses.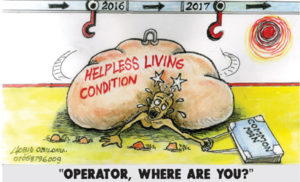 The Emir lamented that it was becoming very difficult for Nigerian masses to eat three times daily due to exorbitant cost of food stuff.
Sulu- Gambari made the appeal in his Sallah message shortly after Eid-el- Kabir prayer at the Ilorin Yidi praying ground.
The Emir who prayed for peace, tranquility and resuscitation of the nation's troubled economy, said " it's high time that our leaders across the three tiers of government do something about the escalating cost of food stuff. "
He asked God to continue to guide the nation's leaders aright so that the task of moving the nation forward would be easier for them.
While urging Nigerians to give their leaders necessary support, the monarch said that rejuvenation of the nation's economy is a collective responsibility of all Nigerians.
Earlier, in his sermon, the chief Imam of Ilorin, Sheikh Mohammed Bashir Salihu who led the two- rakah prayer, urged the affluent to always cater for the needs of the poor masses in their localities.
He also enjoined public office holders across the country to make deliberate efforts towards ameliorating the suffering of the Nigerian masses.
Salihu asked Muslims to continue to co- habit peacefully with the adherents of other faiths, saying that Islam abhors violence in all ramifications.
At Issa Elelu mosque along Murtala Mohammed Way, Ilorin, Imam Abubakar Waliy- Kamal, reminded Nigerian leaders that they are holding offices in trust for the electorate.
He advised them to rule with fear of God and attend promptly to the yearnings of those who elected them into office, adding that they shall in the hereafter give account of their stewardship before their creator.
The Imam urged Muslims to reflect on the import of Eid-el Kabir and imbibe the spirit of sacrifice, tolerance and obedience that brought about the festival.
The post Economic Hardship: Emir of Ilorin begs Govt to reduce cost of food Items appeared first on Vanguard News.
Tags 2014
You may also like...