Diouf's Liverpool history won't stop Mane idolising him
Diouf, a two-time African Footballer of the Year is the idol of Mane; one of the stars to come out of Africa in recent times. Although the former is mostly remembered for his tumultuous relationship with the club and team mates, Mane who now plays for the same club still regards him as his hero.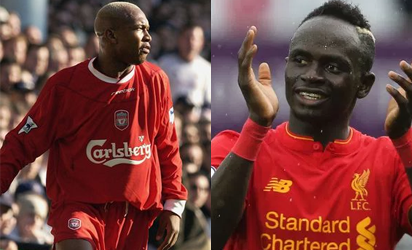 "He was the first player I loved to watch and I remember the game against France [at the 2002 World Cup] when we won, leaving school to watch in my friend's house," he told the Daily Mail.
"El Hadji is a hero at home, I still see him when I go back. Here [a hero]? Maybe not so much!"
Asked if he aims at winning personal accolades like Diouf did he said, "I don't think it is the one main aim for me," he added. "The main aim is to win trophies with this team.
"If I was to get it one day in the future, of course, that would be great. I'm just looking forward to the season. I think we can get stronger. And I know we can get better.
"There is more [to come from me]. Much more. You can't say when you are 25 years old that you know everything. You don't. I can still learn.
"I know how far I want to go. So let's see what we can achieve."
The post Diouf's Liverpool history won't stop Mane idolising him appeared first on Vanguard News.
Tags 2014
You may also like...