Dickson assures NDU of govt support
By Samuel Oyadongha
YENAGOA—Gov-ernor Seriake Dickson of Bayelsa State has assured that the state government will continue to support the Niger Delta University in order to ensure that it flourishes and gains recognition beyond the shores of Nigeria.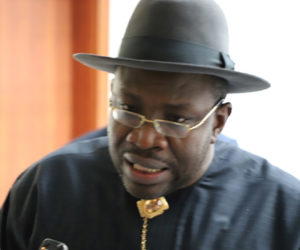 According to him, government was interested in the training of professionals and ensuring that high academic standards in the university were maintained and benchmarks achieved in the training of nurses and midwives in the institution.
He stated this when an accreditation team from the Nursing and Midwifery Council of Nigeria, Abuja, called on him in Yenagoa.
Represented by his deputy, Rear Admiral Gboribiogha John Jonah (retd), the governor also assured the visiting accreditation team that the state government will support the sponsorship of internship programme for nurses and midwives as it was already doing for other programmes in the medical profession.
Earlier in her remarks, Dr  Mary Mgbekaem, spokesperson of the accreditation team disclosed that Niger Delta University was leading in the training of nurses and midwives in Nigeria as it was the first university in Nigeria to have a full-fledged Faculty of Nursing and Midwifery.
The post Dickson assures NDU of govt support appeared first on Vanguard News.
Tags 2014
You may also like...