DG Media to Kogi Gov fetes his people at Xmas
*Doles out motorbikes, grinding machines and food items
By Bolu Obahopo, Lokoja
Director General on Media and Publicity, Evangelist Kingsley Fanwo has doled out motorbikes, grinding machines and food items to the people of Takete/Ide Otafun Ward and Ayede Amuro Ward of Mopamuro Local Government Area of Kogi State. He said the gesture is aimed at empowering his people.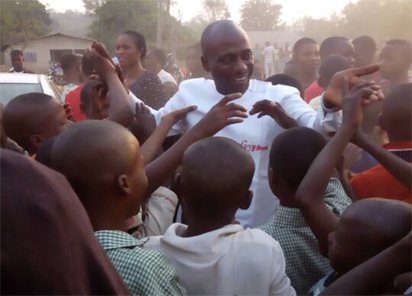 A number of youth went home with motorbikes to be able to engage in transport business and cater for themselves.
A beneficiary, Olusegun Ologun told Vanguard reporters that this is the first time an appointee of Government is doing such in the area.
"We thank Hon. Fanwo for the good gesture. We are excited and happy. Now we don't have to beg to feed again. No appointee of government has done this in our area here. You can see that he gave grinding machines to women also. This is commendable".
Another beneficiary, Mrs Grace Olowosiwa who spoke in Yagba dialect said she intends to use her grinding machine to fend for herself and her family.
"Since I have been doing politics, nobody has remembered me for anything. You can see how happy I was when my name was announced. I thank Hon. Fanwo for this gift. I am for Yahaya Bello. I am for APC".
Also, customized textbooks were donated to pupils in Nursery and Primary Schools. The excited pupil were seeing milling around the Governor's spokesman. Our correspondent said 10,000 copies of the books were donated.
Speaking after the event, Hon. Kingsley Fanwo said he was happy to have the privilege of assisting his people. He thanked the people of Takete Ide, Ayede and Otafun Amuro for supporting the government of Alh. Yahaya Bello.
"The Government of Alh. Yahaya Bello is about the people. It is about the welfare of the people; how we can lift our people out of poverty and penury. What I am doing here today is about his mandate to us.
"We shall continue to empower our youth in the state. Government is about them. They are our most cherished resource and we must develop them.
"Let me thank the people of Takete Ide, Otafun and Ayede Amuro for supporting the New Direction Government of Alh Yahaya Bello. This government will not disappoint you.
"Government will fix the Owowo Bridge. I am giving the guaranty because I know our Governor loves our communities".
The atmosphere was electric as the Director General promised to make the empowerment a continuous exercise.
The post DG Media to Kogi Gov fetes his people at Xmas appeared first on Vanguard News.
Tags 2014
You may also like...