Dankwambo in handshake with Atiku
By Emeka Obasi
There is no running away from the truth anymore, it is not going to be business as usual in politics. Many will be disappointed because compatriots are wiser now. Age will play a huge role in determining  who emerges  president in 2019.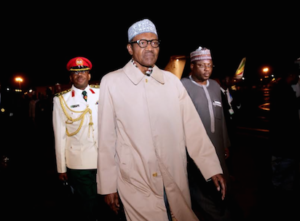 Gombe State Governor, Ibrahim Hassan Dankwambo, has an opportunity to  move fast and  make all the difference. I say this because it is the turn of the much marginalized North-East geo political zone to produce a president. That is the only area that has not enjoyed the position.
The most prominent politician from the North-East at the moment is ex- Vice President Atiku Abubakar. He is qualified for the presidency as well having tried severally in the past, albeit, without success. You ignore the Waziri Adamawa, there is a huge price to pay.
President Muhammadu Buhari has not said Aso Villa will be his home after May 29, 2019. My take is that so many politicians are in a hurry to force him into a second term. The sad thing is that some of them do not have anything to show for their involvement in the game and only need the name of the president to cling  to power.
We are now faced with the choice of electing a younger Nigerian as our president. It is obvious that it will be easier for a camel to  pass through the eye of a needle than for anyone above 68 years to convince the people that gerontocracy is the norm. It works in Ibadan. It may not fly anymore in our nation.
And that is where Atiku may have a problem. I salute his doggedness. He also believes in one Nigeria and has shown that investing in education is the way forward. The man has experience to manage things. Somehow, it does appear he is better off now as a kingmaker than being a king.
At 72, Atiku has paid his dues. He has clout all over Nigeria and despite his cold friendship with Chief Olusegun Obasanjo, both men are like Iran and Iraq, always at war but never apart. They can always meet in Ijesha land to sort themselves. Obasanjo's in-laws are in Ijesha, the land of Mrs Mabel Obasanjo. Atiku's first wife whom he married in December 1971 as Titilayo Albert, is from that part of Yoruba land as well. Someday, you will see both men shake hands at Iwude festival.
In Igbo land , the Waziri Adamawa is recognized as a worthy in-law. At the next Ofala in Onitsha, we could see the Iwenjoras take Atiku to the palace of Obi Nnaemeka Achebe. One of the politician's wives was formerly known as Jennifer Iwenjora.
The best for Atiku is to endorse Dankwambo for the presidency. He has the might to take the Gombe governor to the top. The young man is just approaching 56 and is mentally equipped  for the challenges ahead. For the sake of the North-East, this Atiku-Dankwambo handshake must  begin.
Dankwambo must make the first move. He is younger. It will be one big step by an individual and a giant leap for the much marginalized North-East. One former senator told me people say the Gombe State governor must reach out, that is the way to play politics and I am saying it publicly now for the man in question to take it from there.
Yes, Atiku has fought a good fight and also sacrificed so much in the past especially after Chief Moshood Abiola chose Babagana Kingibe as running mate of the Social Democratic Party(SDP) in 1993. I would not want two candidates from the North-East to enter the Peoples Democratic Party (PDP) primaries for the 2019 presidential election.
Nigerians must support this move; Power must shift to the North-East after Buhari. Let me recall some of the achievements of that geo political zone that has been stopped from tasting the presidency by fellow country men and women.
The First and only Prime Minister, Sir Abubakar Tafawa Balewa came from the North East. He was followed by other firsts. The first ever governor from the North, Sir Kashim Ibrahim. First Northern Speaker, Ibrahim Jalo Waziri. First indigenous governor of the Central Bank,Aliyu Mai-Bornu. First Northern Inspector General of Police, Kam Selem. First Nigerian Sandhurst trained  officer, Zakari Maimalari. First Northern Chief of Defence Staff, Gibson Jalo. First Airforce Chief of Defence Staff, Al Amin Daggash.
Some Igbo may fault me on this. Dr. Azikiwe was president for three years, 1963-1966, even if Balewa was Head of government. And this is also for Dankwambo's ears. Go in search of a running mate from the Igbo area. I am trying to form a government of national unity for him.
The Senate President must come from the South West. They have never produced one. Speaker of the House should be from the North-West. Secretary to the Government of the Federation, South-South. And I just pray that the next Chief Justice of Nigeria will hail from the North Central.
That zone ruled Nigeria for 18 years.
Dankwambo should continue with the handshake down south. Talk to Ohaneze, Afenifere, Niger Delta leaders and storm Lagos in full force, more than he did during Lagos at 50. Lagos is the heart and soul of Nigeria. Kaduna mafia died. Langtang mafia died. Eko does not die.
I just pray Oga Atiku listens and backs his younger brother.
The post Dankwambo in handshake with Atiku appeared first on Vanguard News.
Tags 2014
You may also like...