Court convicts two Nigerians for recruiting terrorists
By Ikechukwu Nnochiri
ABUJA — The Federal High Court in Abuja, yesterday, convicted two Nigerians, Abdullahi Mustapha Berende and Saidi Adewumi, accused of recruiting new members for an Iran-based terrorist organisation.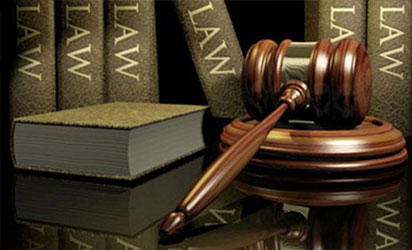 Trial Justice Ahmed Mohammed said he was satisfied that the Federal Government proved its case against the defendants beyond every reasonable doubt.
While the court found the 1st defendant guilty on all the six-count charge the Federal Government preferred against him, the 2nd defendant was convicted on counts five and six of the charge.
Specifically, the judge sentenced the 1st and 2nd defendants to five years imprisonment on each count of the charge that they were found guilty by the court.
However, the court, which noted that the duo had already spent five years in detention since 2012 when they were arrested by Department of State Service, DSS, held that their sentence should run concurrently.
Counsel to the defendants, Mr. E. Oladimeji and M. Hannafi had before the sentence was passed,yesterday, prayed the court to temper justice with mercy.
The defence lawyers told the court that the convicts had no prior criminal records, adding that the 2nd defendant was a married man and had Masters degree in Engineering.
FG had alleged that the two defendants collected 3000 Euros and $20,000 from the terrorist group to source and train terrorist-minded Nigerians fluent in English language.
The post Court convicts two Nigerians for recruiting terrorists appeared first on Vanguard News.
Tags 2014
You may also like...