CORONATION OF 21 KINGS: Olubadan vows not to bless new 'Obas'
By Ola Ajayi
Ibadan—AS the Olubadan of Ibadan land, Oba Saliu Akanmu Adetunji, continues to stoutly  oppose  the coronation of 21 new kings in Ibadanland, the monarch has said he would not bless the new Obas who could not wait for their turn to become Olubadan but hurriedly presented themselves for coronation as inferior Obas by the Oyo State Government.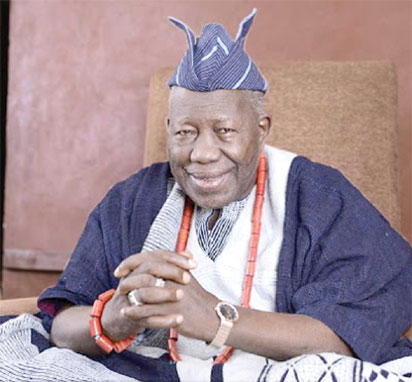 He said this while faulting the claims by Ibadan Elders Forum that he had finally soft-pedalled on his posture against the installation of the kings.
Oba Adetunji, who spoke through his Director, Media and Public Affairs, Mr Adeola Oloko, in an electronic mail was reacting to a statement credited to a group of Ibadan elders who featured on two Ibadan based private radio stations.
Though, the first class monarch acknowledged receiving the elders at his Popoyemoja palace last Thursday, he was quick to add that there was never a time he was in the dark over the Ibadan Chieftaincy issue as he did not say what the elders quoted him to have said.
Clarifying his position, Oba Adetunji said that Governor Abiola Ajimobi for whom they had come to plead is his son and that he would not want a third party to intervene in the matter.
The monarch said; "For avoidance of doubt, my opposition on the elevation of high chiefs to kings status without domain remains the same, as I maintain my stand. I cannot see how I would bless the high chiefs who have refused to wait for their turn before stepping forward to take crowns from the government, contrary to our tradition and custom.
"The crown which I wear has its root from somewhere. I cannot bless a crown that has no root. You will recall that the same Ibadan Elders' Forum stoutly opposed the former Governor Adebayo Alao-Akala's move to elevate six Baales in their letter dated 24th April, 2009."
On page 2 of that letter titled: "The composition of Oyo State Council of Obas and Chiefs" signed by Ambassador Olu Sanu and Onaolapo Ajibola, they stated: "The (Ibadan Chieftaincy) system had worked for ages and ensured peace and stability in Ibadan land and the forum would therefore not want the government to tamper with the system in order not to create confusion and ill-feeling.''
He explained that; ''Baales in Ibadan land were village heads who were nominated by Mogajis who were compound heads in the city. Mogajis who were traditional fathers of Baales were themselves not yet titled chiefs of Ibadan land."
The post CORONATION OF 21 KINGS: Olubadan vows not to bless new 'Obas' appeared first on Vanguard News.
Tags 2014
You may also like...