Controversy as father of two is hacked to death, 'prostitute-friend' critically injured
…Residents say attack bears 'Badoo' hallmark
…MYSTERY MIDNIGHT MURDER
By Bose Adelaja
A father of two has been mysteriously killed in his home in MosanOkunola Local Government Development Area of Lagos State while a lady suspected to be a prostitute who was with him on the night of his murder was brutally attacked and doctors are battling to save her life in hospital. The incident occurred last weekend at No 23 Abeokuta Street, Okunola as the deceased, Opeyemi Oluleye, had his head smashed while the alleged prostitute was simply identified as Bola.
Fear has gripped residents of the area as nobody could unravel the killing which many have attributed to the dreaded cult group called 'Badoo' in reference to its attack weapon of grinding stone which was found near the scene of attack.
It was learnt that due to economic hardship, Opeyemi's wife and two children had relocated to her home town in Ekiti State pending the time her artisan husband will be financially fit.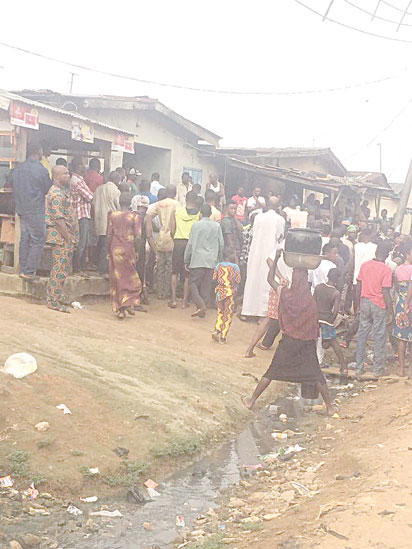 A source alleged that Opeyemi took advantage of the family's relocation to engage in extra marital affair which boomeranged last weekend as he was found dead in his room and parlour apartment.
The 40-year-old was said to be occupying the apartment with his sibling and some squatters but on the fateful night, his sibling and squatters were said to have slept in the room while the man and his girl (Bola) slept in the parlour and only God knows what transpired in the night which led to his gruesome murder while the girl was critically injured and was at press time yet to regain consciousness.
Opeyemi was last seen at about 10pm penultimate Saturday before he retired to bed with Bola but at about 6am on Sunday, members of a new generation church occupying the premises which shared the same entrance with the deceased could not access their temporary store as the place was securely fastened and this almost led to trading of words unknown to them that Opeyemi was dead.
It was learnt that in the course of searching for Opeyemi's whereabouts, he was found lifeless in the pool of his own blood and his head smashed beyond recognition while Bola was critically injured and unconscious.
The deceased was said to be dressed in a T-shirt over jeans trousers while Bola wore a blouse over wrapper.
A source said the parlour where the deceased and his girl slept had wooden window which had signs of damage but the door was locked from behind while Opeyemi's sibling and the squatters were fast asleep in the bedroom.
The incident caused confusion and residents took further steps by searching the area and a blood stained grinding stone was found in a nearby drainage which aroused suspicion that the duo might have been attacked by 'Badoo' which has been terrorizing Ikorodu and environs.
The police were invited to the scene and the body was deposited in a morgue while the victim was rushed to a government hospital where doctors are still battling to save her life.
On Abeokuta Street, residents were afraid to talk to the press for fear of the unknown but neighbours said the street was known for nefarious and illicit activities and all efforts to curb it have proved abortive.
A neighour Lateef Sekoni said the girl may have been picked from a nearby hotel by Opeyemi.
"Opeyemi, a tiler, usually patronized a nearby hotel where prostitutes usually do business. They either book for in-service or follow their clients' home and that may have led to Opeyemi's death"
As of the time of filing this report, Sunday Vanguard leant that Bola's relatives could not be contacted as her family was unknown.
Efforts to get the reaction of Opeyemi's relatives proved abortive as none was ready to cooperative but Sunday Vanguard gathered that the matter was receiving attention of the police and relevant authorities.
The post Controversy as father of two is hacked to death, 'prostitute-friend' critically injured appeared first on Vanguard News.
Tags 2014
You may also like...