CBN not boosting confidence in MfBs – Whensu
Erstwhile President of the National Association of Microfinance Banks (NAMB) and Managing Director/CEO, Global Initiative Microfinance Bank Limited, Mr. Valentine Whensu, in this interview, said that the Central Bank of Nigeria (CBN) is not encouraging public confidence in Microfinance Banks (MfBs) by not emphasising their deposit collecting role. Excerpt:
By Providence Emmanuel
WHY do we have few MfBs accessing loan from funds made available for them?
The industry is still very young; some have foreign body assisting them in terms of funding. This business needs funding. N2 billion to N20 billion is quite a huge difference and the kind of business that an association can do with N2 billion, N20 million cannot do it. Size also matters in this business. If you also observe, the big names that control 40 percent of industry total assets also have foreign partners behind them, so to access funding is very easy.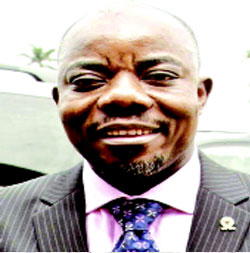 For instance, in one of my advocacy visit to African Development Bank (ADB), I realised that the minimum money they can give to a MfB is $5 million, and they would assess your balance sheet. You cannot get that if you are a Unit or State MfB, except National MfBs and that explains why the business distinction is there. But in trying to see how we can balance up on this field, overtime when these Unit MfBs sustain themselves, in the next 20 years, we would begin to see a different thing in terms of size and share of business by what we have now.
What is your opinion about consolidation of MfBs and likely impact on financial inclusion?
The report issued this year by Enhancing Financial Inclusion and Access (EfinA) showed that as at 2008, financial exclusion in this country was 58 percent and nine to 10 years later; it has reduced to 41 percent. It took Nigeria about nine years to increase by eight percent. Exclusion rate is still very high by 40.8 percent. We need more institutions that would get closer to the people at the grass root.
Financial exclusion
If MfBs were set up by the economy to take care of the people in the rural area, then government should bring incentives that would attract MfBs to go to the rural areas.
They set a target for 2020 and 2020 by calculation is less than two and a half years, if this is the case and it took nine years to have nine percent. So how do we meet the remaining gap in two years? Consolidation is not an issue in the industry but we should look at how we can improve on the infrastructure physical, social and financial in this sub sector.
What accounts for the low level of deposit mobilisation in the sub sector?
The CBN that said we have not been able to mobilise fund, do we have the right infrastructure in place in this country. You need to compare and ask if we have a developmental microfinance system or a commercial microfinance system in this country. We need to establish that and look at how often has the CBN come out to encourage public confidence in MfBs they have licensed.
Until we begin to do things, the mobilisation will remain poor. Everybody wants to collect loan from MfB and deposit with deposit money banks. That is an issue the regulators need to look into. Even the NDIC, who are responsible for insurance cover, how often do they come out to tell the public that their money in MfB is safe in case anything happens? If you are not sensitizing the public about MfBs, how would you generate confidence?
In Kenya, MfB is seen as other financial institution when you give them licence to collect deposit. How often do CBN make people know that there is no difference between commercial banks and the MfBs except in size and transaction? MfBs are taken as OFIs; meanwhile, you are not saying they are deposit money banks. The moment the CBN change the nomenclature, then the public would begin to see that MfBs too can collect deposit. If that statement is coming from the regulator that licensed us, they would believe them faster than us. It would take time to get to that level of confidence and the moment there is confidence, everything would change.
The post CBN not boosting confidence in MfBs – Whensu appeared first on Vanguard News.
Tags 2014
You may also like...