Caught in the pregnancy trap by Gold-digger!
By Bunmi Sofola
It was a birthday bash WaIter was most reluctant to attend. Anthony, a friend in the security wing of the office he moonlighted for in London was having a party for his live-in partner. WaIter had known both of them for a couple of years, but was really tired joggling two jobs. When his friend called on the day of the party to remind him to attend, he reluctantly got dressed, resolved to bolt at any decent time he could.
"It wasn't a bad party," WaIter recalled; "and as I mingled, I caught sight of a very pretty lady chatting with Jane, the celebrant. Both Jane and Tony had been on at me to get a steady girlfriend but I'd been too busy to try. I was in the country with a tourist visa and until I finished my studies, I wasn't going to mess up my life by a complicated relationship.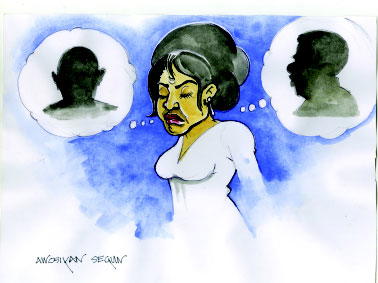 I'd heard cases of a lot of immigrants who'd been deported because they were shopped by irate lovers. "Jane eventually introduced us. Her name was Boma and she was on holidays in England for a few months. That suited me fine. I took her number and we started going out. She was sweet and so much fun that we fell in love.
"When I suggested she leave her rented one room accommodation and move in with me, she readily agreed. She told me she was staying in London long enough to get over being jilted by a man she'd known almost all her life.
It was a good thing she came or she would never have met such a caring man as me, she said. I was flattered. She was in her late 20s and I was pushing 32. We were both ripe to commit and I assured her that as soon as I finished my studies the following year, I would arrange for her to come over so we could be together on a permanent basis. I was in love, I believed she was also passionate about me.
"I did a lot shopping for her and it was a happy Boma that finally left for Nigeria. Then the phone calls started. It was nice to be able to communicate easily with her, it lessened the pain of missing her. A couple of months after she got back, she sent me a text that she was pregnant. I was shocked but excited at the prospect of being a father.
Would she want to keep it? The few weeks we spent together had resulted in a baby and I quickly put a call through to her. She told me she was scared to be alone with a baby on the way and I assured her I would help all I could. I even volunteered to send my younger sister to her, in case
she needed help, but she assured me she could manage.
"In the meantime, I regularly sent money to her so she could buy all the baby things she said she would need. She even sent a scan of the baby and I was in cloud nine. At last the news I was expecting came. She called she'd had a beautiful baby boy and would send me a photo of him
soon. I told her to give her address so my sister could visit. She promised to do that as soon as she left the hospital and move into the one room flat she just got from the money I sent her. That was the last I heard of her.
Her phone was switched off permanently and the text messages didn't go. In the end I went to Tony and Jane's place. Boma had told me they both knew about her ex and she would rather keep our romance quiet until we were both sure. Now I had to tell them Boma had had my child and I could not get in touch with her.
"They both starred incredulously at me when I told them my story. 'You and Boma?' Tony asked, Why didn't you tell…me? Boma couldn't be expecting your baby or had any child for you because she's already married. 'What do you mean?' I asked, stunned. 'She sent me a scan of the baby and told me she's got a new place,' on and on I babbled refusing to face the facts now staring me in the face.
Did they have her number? The number they had turned out to be the same as mine. Jane told me they were just classmates and it was by chance she ran into Boma at a friend's house and invited her over for her birthday party.
'Why on earth didn't you tell us about your relationship with her,cried Jane,'we would have discouraged you.'
"l was in shock for days. If Boma didn't want me, why not just find a silly excuse to dump me? Why hurt me this badly, letting me believe in a child and a future that had never really existed? I'd been so gullible, taken for most of my savings by a heartless woman's scheming. Even now, I can't stop going over my time with Boma and how she took me for a ride. That's why I came down to look for her; Jane gave me a few contacts that fell flat.
Even if I found her, what could I do? Short of her telling me to my face why she treated me so cruelly, I couldn't avenge anything. I remain the fool she took me to be. Only I'm now more wary of women. Women like Boma are few but deadly and you can't predict her type when you run into her…"
The post Caught in the pregnancy trap by Gold-digger! appeared first on Vanguard News.
Tags 2014
You may also like...